Kerpe is a holiday resort in the Kandıra district of Kocaeli, located in the Marmara Region, which is the tenth most populous city of our country. Especially since it is an average of 2 hours away from Istanbul, many holidaymakers come to the region from this city. In addition, the number of visitors from the cities of Bursa and Ankara is quite high. Karpathos is a prominent tourist region with its natural beauty areas and blue flag beaches. That's why it is frequently visited in the summer. It is also widely preferred for day trips and weekend getaways.
Among the places to visit in Karpathos, undoubtedly its beaches come first. The first of the beaches that fascinates visitors with its crystal clear sea and wonderful sandy beach is Kerpe Public Beach. Then, Kartal Rocks, Sosyete Beach, Miço Bay, Karpe Diem Beach, Ömerağzı Bay and Cebeci Beach areas are among the places to visit in this charming holiday town. You can have a pleasant holiday with your family or loved ones in this town, which is very suitable for both long holidays and day trips. When you come here, we recommend that you definitely see the places listed below.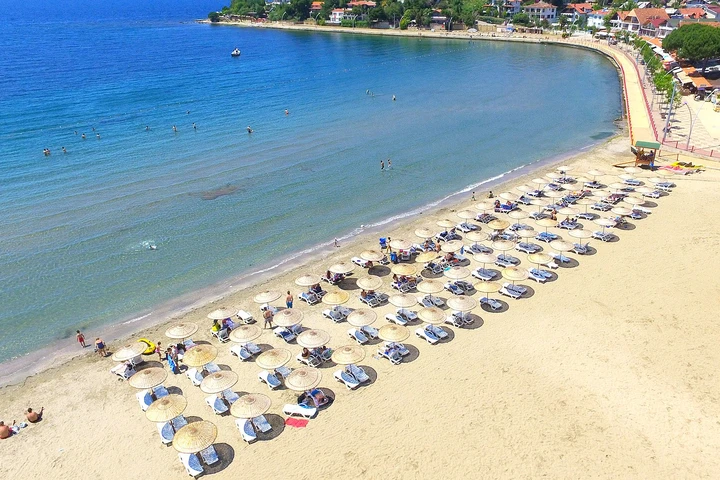 Kerpe Public Beach
The first place to visit in Kerpe is Kerpe Public Beach. Located in the center of the town and in a natural bay, this beach is quite crowded, especially on weekends.
The sea of this beach, which is one of the beaches with the blue flag, is clean and very clear. It is also very suitable for families with children since the sea is shallow. The beach section is completely covered with sand. Since it is a public beach, entrance is free. You only have to pay a certain fee for sun loungers and umbrellas. You can also benefit from facilities such as changing cabins and showers.
If you want to be secluded, calm, peaceful and have only the sea, sand and sun trio accompany you, you should definitely go to this beach. However, since it is quite crowded during the summer season and on weekends, we recommend that you come early in the morning to find a place.
Eagle Cliffs
Kartal Rocks, also known as Kerpe Rocks, are one of the spots you must visit when you come to the town. These cliffs, located within walking distance of Kerpe Public Beach, stand out with their magnificent appearance.
These rocks are home to cliffs formed by the effect of wind and waves. The region, which is a complete natural wonder, also attracts attention with its unique view. Many local and foreign tourists come to this region, which is of great importance in terms of tourism, especially in the summer months. In addition, fishing activities are frequently carried out in the region.
When you visit the cliffs, you can photograph the magnificent view frame by frame, watch the sunset, swim in the sea and see the natural rocky pools in this area closely.
Society Beach
One of the beaches you should not return to without swimming during your Kerpe holiday or trip is Sosyete Beach. This beach, with its very cool name, is located approximately 150 meters away from Kerpe Public Beach.
The sea of this beach, which is among the frequent destinations of many holidaymakers, especially from Istanbul, is very clean. The beach area consists of artificial sand. You do not need to pay any fee to enter this beach, which is managed by a private business. You can only pay to rent umbrellas and sun loungers. There are also buffets and cafes offering food and beverage options. This beach, where you can enjoy the trio of sea, sand and sun, has a calmer atmosphere than the other beach.
Shipwreck Bay
In addition to being a bay, this is a beach that only serves women. That's why it is also known as Women's Beach. There are many activities you can do in this bay located on Kerpe Kefken Road.
You do not need to pay any fee to enter the bay. Additionally, boys over the age of eight are prohibited from entering. You have the opportunity to rent sun loungers and umbrellas. Apart from this, there are places where you can meet your eating and drinking needs. In addition to swimming in this bay, you can walk along the beach, play volleyball and have a wonderful holiday experience.
Since the area around the bay is completely covered with trees, there are also places where you can have a picnic. If you wish, you can have a picnic here after the sea, sit under the shade of the trees and enjoy the peaceful environment.
Karpe Diem Beach
Another beach on our list of places to visit in Karpathos is Karpe Diem Beach. Located in the southern part of the town, this beach stands out with its clean sea and sandy coast.
Everything you need is available at the beach, from restaurants to cafes, changing rooms, showers, sun loungers and umbrellas. Since this beach is run by a private facility, there are also accommodation options. Taste if you wish You can spend your stay by staying in this region and benefit from all the facilities of the beach.
Ömerağzı Bay
If you want the sea where you will swim during your Kerpe holiday to be as clean as a sheet, this bay is just for you! Located only 3 kilometers away from the town, this bay hosts both a magnificent sea and lush forest areas.
Ömerağzı Bay appears as a completely natural bay. The sea of this bay, surrounded by forests, is clean and sandy. Located at a point where the deep blue sea and lush green forest meet, this bay also has areas where you can barbecue and have a picnic.
Cebeci Beach
Among the places to visit in Kerpe is Cebeci Beach, which is located approximately 4 kilometers away from the town and is one of the blue flag beaches. The sea of the beach is very clean and clear.
Especially in summer and on weekends, many tourists from outside the city flock to this beach. Therefore, if you come here on weekends, you may have difficulty finding a place. This beach, whose entrance is free, has many facilities such as sun loungers, umbrellas, changing cabins and toilets. There are also places where you can camp around. You can camp and enjoy the sea, sand and sun.