Ankara Flight Ticket
Ankara
Flights Arrivaling To Ankara
Istanbul - Ankara
Dec. 22, 2023
Flights Domestic Departing From Ankara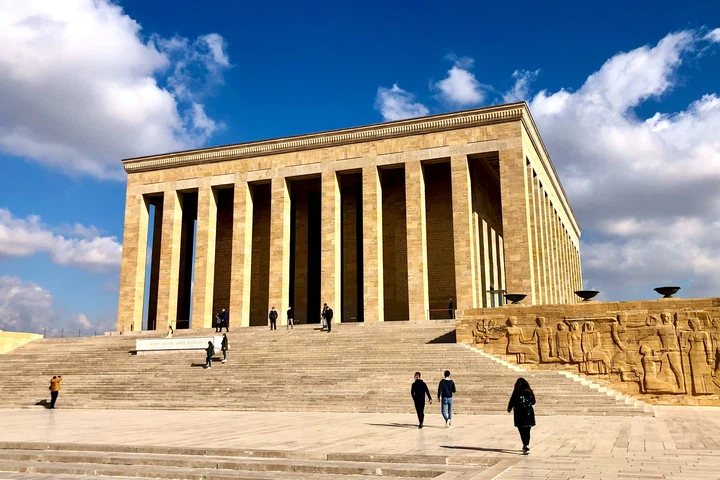 Places to see in Ankara is one of the frequently researched topics about Ankara, the capital city of Turkey. Ankara has a population of 5,747,325 and has the characteristics of being the capital of Turkey and the second most populous city. It has 25 counties. There are 1425 neighborhoods connected to these districts. The city welcomes domestic and foreign tourists throughout the four seasons.
How to go to Ankara?
Tourists who want to go to Ankara can use air and land. Visitors who prefer airlines will use Ankara Esenboğa Airport, which has been in service since 1955.
Esenboğa Airport is located in Çubuk and Akyurt districts and is 28 km north of the city center. You can come here by bus, taxi, metro or special services called Havaş from the city center.
You can buy tickets from Esenboğa Airport flight ticket offices or online.
Tourists who do not want to prefer the airline can use the bus station called AŞTİ (Ankara Intercity Bus Terminal) or YHT Train Station in the city. In addition to the high-speed train, suburban passenger trains operate in and out of the city.
Those who want to go to the city center from Ankara intercity bus terminal and train station can benefit from facilities such as buses, minibuses, subways and taxis.
Before you plan for the must-see places in Ankara, you should think about what kind of trip you want to make. There are many places to visit in Ankara for a cultural, artistic or historical trip. For this reason, those who are wondering how many days to stay here to visit Ankara can have a productive process by planning their trips.
Mausoleum
Anıtkabir is one of the places that every tourist who comes to Ankara wants to go. Anıtkabir, loved by those who love cultural holidays, is located in Ankara's Çankaya district and contains the tomb of Mustafa Kemal Atatürk.
The construction started in 1944 and completed in 1953, the building has been receiving visitors since its completion. It is open every day of the week between 9.00 AM and 5.00 PM. Entrance is free.
Anıtkabir, which receives an average of 250000 visitors per month, peaks on important dates for Turkey such as 10 November, 29 October, 19 May and 23 April. The opening hours of Anıtkabir on these dates may change.
There are alternatives to reach Anıtkabir, which is at the top of the list of places to visit in Ankara. You can come directly from the center by bus or via metro. There are also taxi and minibus options. Those who come here by personal car can use the free shuttle service in Anıtkabir.
There is a trip plan inside Anıtkabir. Inside this 750000 square meter building, there are sections with different values. These:
• Lion Road,
• Istiklal Tower,
• Peace Park,
• Freedom Tower,
• Ceremony Square (Area),
• Mehmetçik Tower,
• Female & Male Sculpture Group,
• Victory Tower,
• Peace Tower,
• 23 April Tower,
• İsmet İnönü Sarcophagus,
• National Pact Tower,
• Monument Block,
• Flagpole and Base,
• Anıtkabir Atatürk Museum,
• Art gallery,
• Mausoleum,
• Defense of Law Tower,
• Republic Tower,
• Revolution Tower,
• Burial Chamber,
• Alagöz Headquarters Museum,
• Hall of Fame.
Visitors who want to come to Ankara for a trip to Anıtkabir have many hotel and hostel options close to here.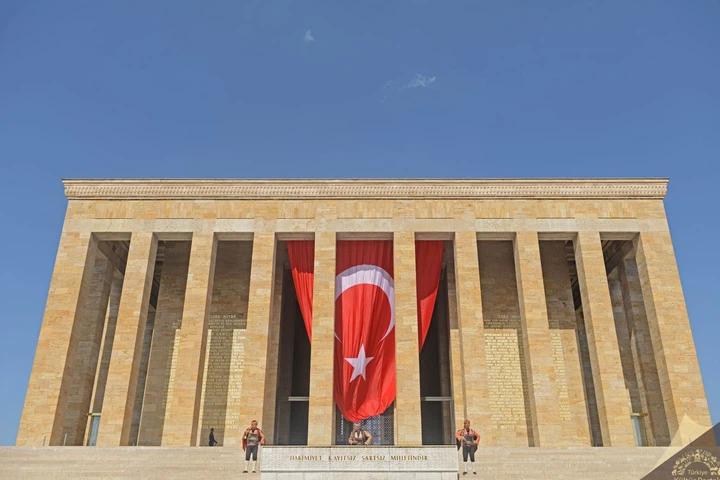 Beypazari
Beypazarı is one of the first things that come to mind when it comes to natural touristic places in Ankara. Two-three-storey old houses, which are examples of Ottoman architecture, draw attention here. This place is almost like an open air museum.
You can easily reach here by purchasing an Ankara flight ticket. You can take photos and spend time in the handicraft workshop. You can reach Beypazarı, which is also famous for its local products, from the city center by means of different transportation vehicles, by way of Ayaş - Ankara.
Salt Lake
Among the places to visit is Salt Lake, which is located within the provincial border of Ankara. In the spring, it is possible to take a walk in the lake with the maximum water level in it. In summer, the water in the lake is completely withdrawn. In this way, it offers a wonderful view to its visitors.
Kizilcahamam
One of the natural beauties that should be visited after Salt Lake is Kızılcahamam. There are rich thermal water resources in Kızılcahamam district, which is only 82 km away from Ankara. Guests who want to visit Kızılcahamam, which is among the riches of Turkey, will find many hotels where they can stay in this district, which covers a green area of ​​1700 square kilometers. This place receives tourists every season of the year. Important events such as conferences and international meetings are also held here. You can take advantage of the healing waters that can be used as Turkish bath, bath cure, drinking water, take a walk in the fresh air and go on a bike trip.
Eymir Lake
One of the natural beauties that can be visited in Ankara is Eymir Lake. This lake, which has a magnificent view, is a place where activities are organized and nature walks are made in all seasons of the year. It is one of the most visited places for those who want to escape from the noise of the city. There are endemic plant species, rich wildlife, country gardens and recreation areas. You can also do sports such as canoeing and rowing in the lake.
Kugulu Lake
Swans, geese, ducks and many other bird species live in the lake, from which it is named. While observing the birds, you can have the opportunity to take a pleasant walk. In addition, there are places such as a playground for children, a cafeteria for guests, a tea garden, a walking path and a bicycle path in Kuğulu Göl. This lake, where visitors come in summer and winter, has a different view in every season. It attracts a lot of tourists because it is in the center of the city.
Blue Lake
Located on the side of the Ankara - Samsun highway and 12 km from the center of Ankara, Mavi Göl is a good choice for guests who are wondering how many days they need to stay here to visit Ankara. There are many hotel options to stay here.
The blue waters of which the lake takes its name are most crowded on weekends with its virgin beauties. Located in the middle of a large green area, Blue Lake has a picnic area, walking paths, playgrounds for children, volleyball court, basketball court, football field. In some places, it is possible to travel by water bike and canoe. Blue Lake also has a very beautiful view at night, thanks to the lighting.
Ankara Castle
Famous for its historical importance, Ankara Castle is located in Ankara's Altındağ district and is one of the most important symbols of the city. The 42 towers with 5 corners and the inner castle rooms of the 110 m high castle are open to tourists. Panoramic photos can be taken here. It should also be noted that there are many restaurants nearby.
Hamamönü
Located in Altındağ district, Hamamönü is a historical district that has preserved its mystery until today. Ottoman houses from the old period can be seen in its architecture. Apart from this, there are places to visit such as historical mansions, mosques, monuments, museums, Karacabey Turkish Bath, Mehmet Akif Ersoy Park, Mehmet Akif Ersoy house that has been turned into a museum.
Tunali Hilmi Street
Tunali Hilmi Street is the most popular shopping and sightseeing place in Ankara. There are many international shops, cafes, restaurants and art galleries on this street, which is 1.5 km long and located in Kavaklıdere district. You can easily reach Esenboğa Airport by purchasing a flight ticket and you can shop at Tunalı Hilmi Street, go to a cafe or visit art galleries.
Altinkoy Open Air Museum
Altınköy Open Air Museum, located in Altındağ, one of the districts of Ankara, is a great place for those who love historical travel. This museum, which still keeps the village architecture, traditions and culture alive, covers an area of ​​500 acres. There are historical village cafes, two-storey wooden village houses, village streets, grocery stores, as well as restaurants where you can taste traditional Ottoman and Turkish dishes.
Guvenpark
Güvenpark, located in Kızılay Square, in the center of Ankara, has impressive monuments, historical trees, playgrounds and sightseeing areas. Although it is in the city center, it is away from the noise of the city.
Güvenpark Monument, which gives its name to the park, is a monumental statue with 37 m high bronze figures describing Atatürk and his companions in the War of Independence. On its pedestal, the famous phrase of Mustafa Kemal Atatürk, "Turk, Meal, Work, Trust" is written. It is a place that attracts many tourists in every season and every hour of the year.
Kocatepe Mosque
Kocatepe Mosque, one of the symbols of Ankara, is located in the Kocatepe district of Çankaya. This place, which is one of the symbols of Turkey, receives heavy visitors every season of the year. The construction of the mosque took 20 years. Traditional Ottoman Turkish architecture is seen in its architecture. The mosque, which is 88 m long, has 4 minarets and includes a conference hall and a library.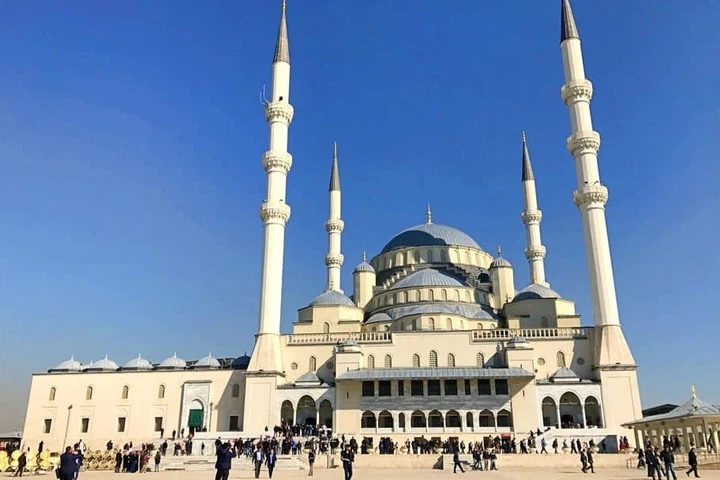 Anatolian Civilizations Museum
The Anatolian Civilizations Museum, located on Gözcü Street in Ankara's Ulus district, is a place where thousands of priceless works are exhibited. It is one of the most important museums in Turkey. It has won important international awards such as the European Museum of the Year. The artifacts in it arouse curiosity in the historical, cultural and archaeological sense.
By purchasing a flight ticket to Ankara, you can easily reach the Museum of Anatolian Civilizations
Ankara Popular Destinations