Spil Mountain is a mountain located approximately 24 kilometers north of Manisa city in the Aegean Region of our country and has great importance in terms of tourism. Many local and foreign tourists visit this mountain, which is among the regions visited in all four seasons, throughout the year. The region, which gained the title of National Park in 1969, dazzles its guests with both its rich history and natural beauties. There are multiple different transportation alternatives to reach the region.
Visitors coming from outside Manisa must first obtain transportation to the city. It is possible to reach the city from many points of our country both by road and air. Those who want to come by intercity buses can easily reach the region by purchasing a bus ticket from the bus companies that organize trips to the region. After arriving in the city, you do not have the chance to come to Spil Mountain directly. It is not possible to enter by public transportation such as buses and minibuses. Therefore, you can rent a car or go to the region by taking advantage of taxi options.
Another transportation alternative is by air. However, since there is no airport in Manisa, it is necessary to land in Izmir, which is the closest region. You can purchase a flight ticket by contacting the airline companies that organize flights to Izmir from your current location, and after reaching the city, you can reach the mountain area by renting a taxi or a car from here and traveling an average of 50 kilometers.
Spil Mountain is also a very rich place in terms of places to visit. When you come to the region, your priority should undoubtedly be Spil Mountain National Park, which has the same name as the mountain. Immediately afterwards, Sülüklü Lake, Horse Field, Mevlevi Lodge and Ağlayan Kaya are among the places you should definitely see. We recommend that you add these places to your list when creating your Spil Mountain travel route.
Spil Mountain National Park
The first place that travelers who plan or plan a trip to Spil Mountain should visit is, of course, the National Park where the mountain is located. There are many activities in this park where you can have a great time.
The national park is home to many historical and natural beauties, from caves to canyons, from lakes to various plants. When you come to this region, you will not even realize how time flies. This park, which is especially frequented by nature lovers, has many types of trees, from poppy to carnation, from plane tree to red pine, from shrub to hyacinth. You can spend a wonderful day with your loved ones in a lush green area, go on a nature walk, and even participate in adrenaline-filled activities such as mountaineering.
When you go towards the foothills of the mountain, you can come across historical castle ruins, which are called cultural riches, you can closely see the tulips called Manisa Tulips, which are the most popular plant of the mountain, and you can take plenty of photographs with both historical and natural views.
Additionally, many different species of wild animals survive in the region. Those who will enter the National Park with a private vehicle must pay a certain amount of entrance fee for their vehicles. This fee information may vary from season to season. If you enter without a car, you do not need to pay any entrance fee.
Sülüklü Lake
Our next stop on our list of places to visit in Spil Mountain is Sülüklü Lake. Located at the foot of the mountain, this lake attracts attention with its magnificent view and clean air.
There are also areas where you can camp in this region, which is extremely suitable for those who want to be alone with nature. You can also see migratory birds in the region. If you like taking nature photographs, we can say that you are in the right place. Here you can take photos of many natural beauties, including the lake view, inhale the scent of the lotus flowers and have a wonderful time away from sight.
Horse Field
Another spot you should visit during your trip to Spil Mountain is the Horse Area. There are many activities you can do in this area, which is the main development center of Spil Mountain National Park.
Horse Area, as its name suggests, is a region where various horses are found. The horses that survive in this region are also called wild horses. The region has been used for older horses to live in nature since the Ottoman period. When you come to the region, you will have climbed to the top of the mountain in a way. That's why we recommend that you be prepared to encounter a magnificent view.
There are many areas in this region where you can pitch a tent and camp. There are also places where you can have a picnic with your family or friends. Apart from these, if you want to stay in the region, wonderful chalets are waiting for you. However, it is also beneficial to make a reservation before staying in these houses.
Mevlevihane
Mevlevihane, Mount Spil It is a place located right on the road on the way to the National Park. Located approximately 3 kilometers from Manisa city center, this place hosts many local and foreign tourists.
This building, built by İshak Çelebi, has an important place in terms of cultural tourism. In this building, which was used during the Ottoman period, you can see many important works such as the harem and greeting areas and the masjid, which shed light on history. We recommend that you add this building, which attracts attention with its architectural appearance, to your travel list.
There is also Mevlevihane Forest Recreation and Range Trap Area in the area where Mevlevihane is located. A large part of this place is used as a recreation area. When you come to the region, you can enjoy a wonderful picnic with your family or loved ones, and accompany the fun-filled laughter of your children in the playgrounds. After Mevlevihane, you can reach the Shooting Range area by passing through a lush green wooded area and participate in the activities there.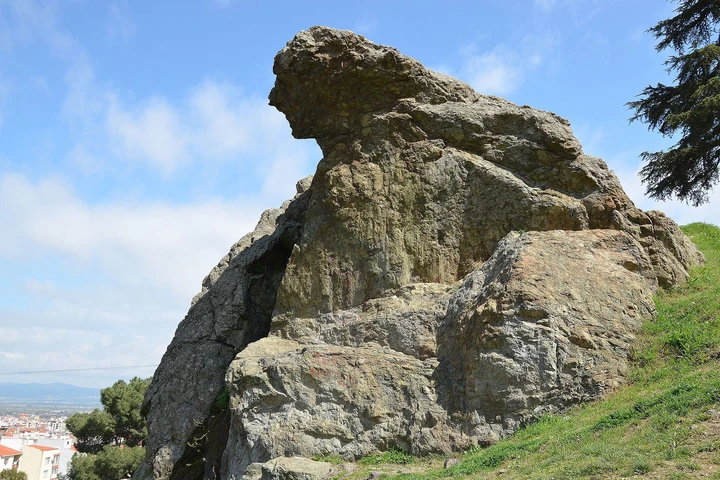 Crying Rock
The last place on our list of places to visit in Spil Mountain is Ağlayan Kaya. Because this rock has a sad and sad story. The rock symbolizes the sad life of a woman known as Niobe, who was called the daughter of the Lydian Ruler.
When you come to the region and hear this legendary story from the people there, you may not be able to hold back your tears. Because when you go there, you will be greeted by a woman made entirely of stone, standing with her head bowed forward.
The place where the rock is located is considered a natural wonder. You can take lots of nature photos here, feel sad because of the legend, and at the same time have a pleasant time because you are in a place surrounded by nature.