Hereke is a district of the Körfez district of Kocaeli province, located on the eastern side of the Marmara Sea. The distance between Hereke and Kocaeli is approximately 36 kilometers. Getting to Hereke is extremely easy. Especially since it is very close to Istanbul, many visitors come from this region. It is possible to go either by private car or by train. It is also possible to reach Karamursel by sea. It is often preferred especially for weekend or day trips. Hereke is a place that stands out with its natural beauties and cultural richness.
Hereke Castle, which smells of history, comes first among the places to visit in Hereke. Kaiser Wilhelm Mansion, Hereke Palace, Hereke Silk Factory, Hereke Beach and Hereke Sumerian Mosque are among the places you must see. You do not need to wait for the summer months on historical trips. However, if you want to enjoy the sea, sand and sun, we recommend you to visit during the summer. In this article, we have listed the most popular places to visit in Hereke for you. You can draw your travel route by examining the places we offer in the list.
Hereke Castle
Hereke Castle is one of the important places that should be at the top of your list of places to visit in Hereke. It is thought that the castle was built in the 640s. If you are interested in the history of the regions, this is the place for you.
This Roman-era castle is widely visited by both local and foreign tourists. In addition, the castle is also mentioned in Evliya Çelebi's "Travelbook". When you go to the area where the castle is, you can also see the Gulf of Izmit, which attracts attention with its magnificent view. This is one of the places visited in all four seasons. We recommend you to see this castle, which stands out with the historical values of Hereke, closely.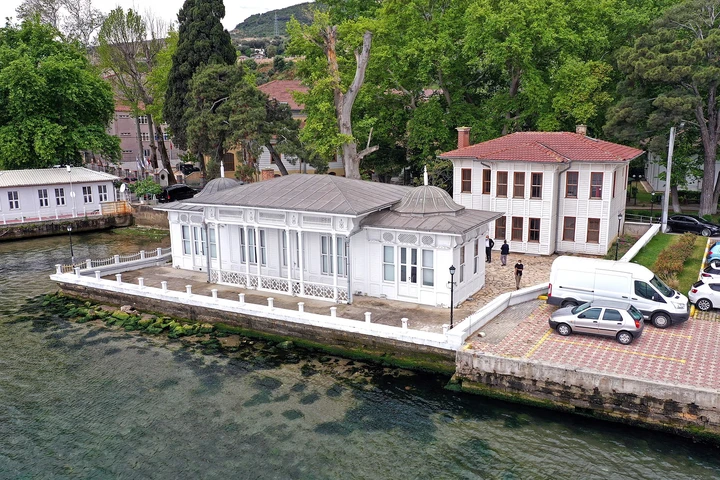 Kaiser Wilhelm Mansion
Kaiser Wilhelm Mansion is one of the places you should not miss when you come to Hereke. Many historical artifacts are exhibited in this building, which is also known as the Second Wilhelm Mansion. The construction of this mansion, which was built by Abdülhamit II, took an average of three weeks.
Located right on the coast of Hereke, this pavilion is a historical building built in 1884 as a result of the visit of the second Wilhelm, the German Ruler, to the region. There are guest house and living room sections in the mansion, which consists of three separate parts in total. You can also see personal belongings such as slippers belonging to Atatürk in this mansion, which was also set foot by Mustafa Kemal Atatürk.
Hereke Palace
One of the places frequently visited by history buffs is Hereke Palace. This building, which was built in the 19th century, was converted into a museum and continued to serve.
It is possible to see many artifacts from the Ottoman period in this important historical building, which continues its activities as a museum today. In addition, you have the opportunity to closely examine many important historical items such as ceramics and textiles from ancient times in the building. Hereke Palace is among the frequent destinations of many local and foreign tourists.
Hereke Silk Factory
One of the must-see places in Hereke is the Hereke Silk Factory. Hereke region is famous for its carpets. This building, which was built in 1845, has an important place in terms of cultural tourism.
There are many exhibition areas for visitors in this factory located in Hereke. In the exhibition areas, important works such as historical weaving machines and silk weaving are exhibited. We strongly recommend you to visit this historical place, also known as the National Palaces Hereke Carpet and Silk Weaving Factory.
A certain fee must be paid to enter the factory. Fees are different every season. Therefore, before visiting, you can contact us to get information about the opening and closing hours, as well as the fees.
Hereke Beach
Hereke is a region that stands out not only with its historical sites but also with its natural beauties. You will visit the region especially on hot summer days, we recommend you to visit Hereke Beach.
Hereke, with its unique beaches and deep blue waters, is among the favorite holiday destinations of many holidaymakers. Hereke Beach is one of the places preferred by many holidaymakers. Especially if you want to get away from the noise of the city and relax, you can choose this beach. The beach is completely surrounded by green areas. There are also hiking trails that allow you to walk around.
Hereke Sumer Mosque
Hereke Sumer Mosque, which stands out with its historical beauties, is at the last place in our list of places to visit in Hereke. This mosque was built in 1859 during the reign of Sultan Abdülmecit Han.
One of the most striking features of the mosque is that its dome was built from the inside. minaret Its name is made of brick. The minaret section remained the same as it was first built. Stone was used in the construction of the stairs of the mosque. We recommend that you add this mosque to your travel list, which is one of the places frequented by history lovers.