Bademli is a charming holiday village in the Dikili district of Izmir, located in the Aegean Region of Turkey. Located approximately 117 kilometers from Izmir city center and approximately 10 kilometers from Dikili district centre, this village is quite active and lively, especially in the summer months. Many local and foreign tourists from outside the city prefer to spend their summer holidays in this village. There are many transportation alternatives for holidaymakers who want to come to the village from outside the city. There are no direct bus services to the village.
First of all, you need to come to Izmir from your current city. To do this, you can reach the city by purchasing a bus ticket and then use public transportation to go to Dikili district. Those who come by private vehicle can go to the village with an approximately two-hour car ride after arriving in Izmir. Holidaymakers who are planning to travel by plane other than by road can research the companies that organize flights from many points of our country and purchase a flight ticket from the company they choose and land at Adnan Menderes Airport in the city. Bademli village is known as one of the touristic areas of Dikili district.
The village stands out with its blue flag beaches and deep blue sea. Bademli is a region famous for its beaches and bays in terms of places to visit. If you have no idea where to visit when you come to the village, this article is for you! When you come to Bademli, your first stop should be Bademli Killik Bay. The best time to visit is undoubtedly the summer. Then, you can visit Bademli Beach, Bademli Pissa Bay, Kalem Island Beach and Bademli Thermal Spring. If you wish, let's start listing the features of these popular places!
Bademli Killik Bay
The first place on your list of places to visit in Bademli is Bademli Killik Bay. Bademli village is like a bay paradise. This bay is extremely suitable for those who want to enjoy the trio of sea, sand and sun.
It is possible to spend a wonderful day in this bay, which stands out with its deep blue sea and fine-grained sandy beach. The beach is surrounded by rocks made of clay. That's why its name is Killik Bay. Since the sea is not very deep, it is also a suitable place for families with children.
Adults who cannot swim do not need to be afraid. You can enjoy the sea with peace of mind. There is also a car park where holidaymakers who come with their private vehicles can park their vehicles.
Bademli Beach
The next place where you can swim in Bademli Village is Bademli Beach. This beach is the largest bay in the region and is also known as Bademli Bay.
This beach, which is among the frequent destinations of holidaymakers, stands out with its coastline consisting of fine sand grains and its sea where you can see every shade of blue. Since this beach is also open to the public, you do not need to pay any entrance fee. There is also a business in the beach area where you can meet your eating and drinking needs. If you want, you can rent sun loungers and umbrellas from this business.
Bademli Pissa Bay
As we said at the beginning of our article, Bademli Village is a place famous for its bays. If you have time, we recommend that you visit these bays one by one and, if possible, swim in the sea and enjoy the Aegean waters. Our next stop on our village tour is Bademli Pissa Bay.
This bay is among the most beautiful natural beauty areas of the village. You can feel very peaceful at this point where lush nature meets the deep blue sea. Since the sea is shallow, it is a place where children can easily swim. Since this bay is also a beach, there is also a business where you can meet your needs such as sun loungers and umbrellas.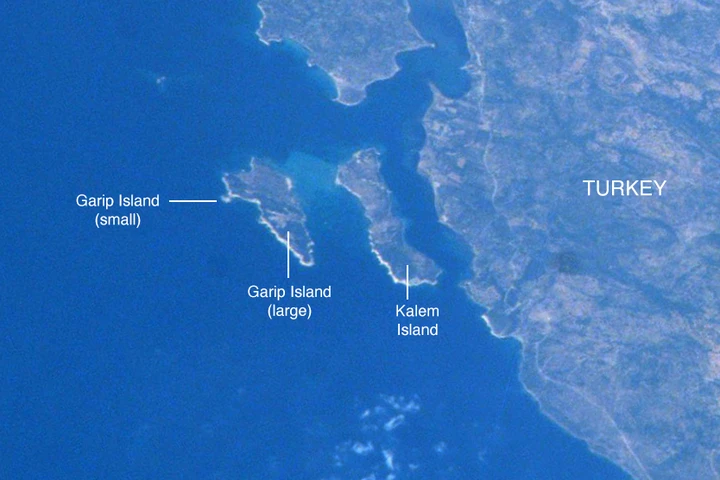 Kalem Island Beach
Another spot that should definitely be on your list of places to visit in Bademli is Kalem Island Beach. This island, located in the region where the village is located, stands out with both its natural beauties and historical riches. You can easily reach this area by boat.
The beach on the island attracts attention with its crystal clear sea and sandy beach consisting of fine grains of sand. This beach, which is one of the spots where you can enjoy the sea and the sun, also offers activities where you can have fun. Water sports come first among these activities. If you are interested in this type of sports, you can get training on water sports from the training center in the region and make your holiday even more beautiful.
Kalem Island is also known as a historical place. It is possible to see important historical ruins from the war between Sparta and Athens in this region. You can explore natural beauties and examine historical monuments at the same time.
Bademli Thermal Spring
When you come to Bademli, we recommend that you do not end your holiday without visiting the hot spring, which is considered healing. Bademli Thermal Spring has a very important place in terms of health tourism.
This hot spring, which was also known as Aiolis Hot Spring in ancient times, is also a first-degree protected area. The history of the hot springs in the region dates back to Roman times. Therefore, during your visit to the hot springs, you have the opportunity to closely see historical ruins from the past to the present. We recommend that you add this place, which has a wonderful atmosphere, to your list of places to visit in Bademli.