Isfahan is one of the popular cities of Iran, located in Southwest Asia. The city is the administrative center of the Isfahan Province of the same name. It is also known as the 3rd largest city of Iran. There are many historical buildings in the region that stand out with their magnificent views. There are many different options for transportation to the city, which is approximately 340 kilometers away from Tehran, the capital of Iran.
The best transportation alternative for those who want to come to this city from other countries, especially Turkey, is air. Especially those coming from Istanbul may prefer air travel. You can easily reach Isfahan by purchasing a flight ticket. Another option for transportation to Isfahan is by rail. However, this transportation route only covers Iranian cities. There are train services from Tehran to Isfahan at certain hours. You can also come to this region by taking the train from Mashhad.
Another transportation option is by bus. But this bus journey takes too long. The best alternative for those who want to come from Istanbul by bus is the bus companies that organize flights between Istanbul and Tehran. For this, you can buy a bus ticket and go on a very long journey. We recommend that you come by plane instead of this journey, which will take longer than twenty hours. Isfahan is a very rich region in terms of places to visit.
The first place to visit in Isfahan is Imam Square, which was the largest square in the world when it was built. Then, you can visit Ali Gapu Palace (Ali Kapı Palace), Cuma Mosque, Bazar-e Bozorg (Big Bazaar), Siesepol Bridge, Chehel Sutun Palace, Vank Cathedral, Historical Chehar Bag Recreation Area, Atashgah (Ateshgah) and Hesht Behesht Palace. and you can have a pleasant trip. The best time to visit this city is between May and September. Because the air temperature during these months will be exactly as you want.
Imam Square
When you come to Isfahan, the first stop you should stop at is Imam Square, which attracts attention with its Islamic architecture and fascinates those who see it.
There are many important historical sites around the square. The square has an average width of 163 meters and a length of approximately 512 meters. During your visit to the region, you will come across historical fountains from the Pahlavi period. Especially when the lighting system of historical buildings in the area is activated when it gets dark, it becomes quite bright. We definitely recommend you to see the square, whose structure has not been damaged since 1629.
Ali Gapu Palace
The second place on our list of places to visit in Isfahan is Ali Gapu Palace, located just in the western part of Imam Square.
This important historical palace, built in 1597, consists of six floors in total. This palace, built by Shah Abbas, is also known as the state gate. Attractive ceiling decorations and wall decorations await you on each floor. It also has a terrace where you can watch the square from a bird's eye view. You can take lots of landscape photos from this terrace and have a pleasant time.
Friday Mosque
Cuma Mosque is located just in the northern part of Imam Square. This mosque, also known as Masjid al-Juma, is the grand mosque of the region.
This mosque, which is among the frequent destinations of those who are interested in historical mosques, reflects the Safavid and Mongolian times, as well as bearing the characteristics of Seljuk architecture. The mosque is very different from known and ordinary mosques. You may be amazed when you see this mosque, which stands out with its magnificent and sparkling appearance.
Bazar-e Bozorg
When you come to Isfahan, we recommend that you also visit Bazar-e Bozorg bazaar. Located about two kilometers north-east of the Cuma Mosque, this bazaar is among the oldest bazaars in the Middle East region.
There are many shops in the bazaar, from souvenir shops to Iranian carpets, from copper arts to spice shops. When you visit this bazaar, which is a grand bazaar, you can buy gifts for your loved ones and visit the shops one by one.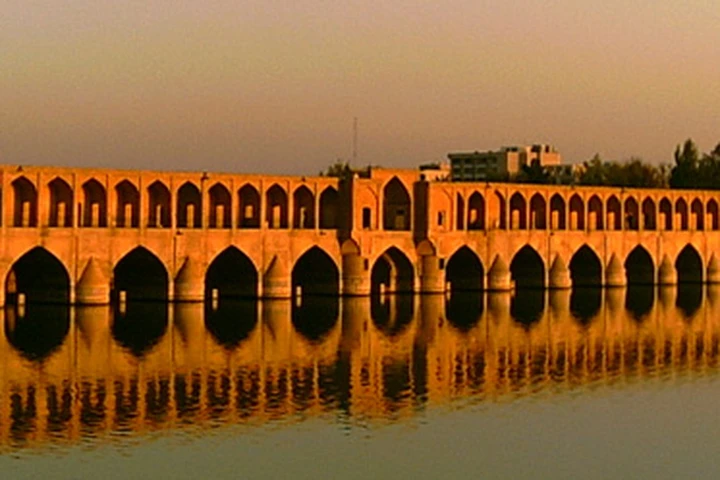 Siesepol Bridge
Another stop on our list of places to visit in Isfahan is the Siesepol Bridge. The bridge is located on the Zayenderud River, which stands out as the city's important water source.
This historical bridge, built in 1602, has a total of thirty-three legs. The length of the bridge, which has an average width of 14 meters, is approximately 300 meters. During your visit to this bridge, which is also known as the symbol of the city, you can also see other historical bridges located on the river and take plenty of photos.
Chehel Sutun Palace
If you want to see a place where both historical and natural beauties come together during your trip to Isfahan, you are in the right place. Chehel Milk In addition to being a place steeped in history, the Palace is also a historical building that stands out with its tree-lined areas.
The palace is located in a garden completely covered with trees. There is also a pool in the garden. This structure, which was built during the reign of Shah Abbas II, is also called the Palace of 40 Columns. Inside the palace, you can see many pictures symbolizing the wars during the Safavid period. Since it is among the most beautiful natural beauties of Iran, it has been included in the UNESCO World Cultural Heritage List.
Vank Cathedral
The cathedral is an important historical building located on the southern bank of the Zayenderud River and reflecting Armenian culture. This cathedral, also known as the Vank Church, has great importance in terms of religious tourism.
In the area where the cathedral is located, there are also many Armenian churches, including the Armenian Cemetery. It is one of the places that must be visited by those who are interested in religious buildings.
Historical Çehar Bağ Recreation Area
We would not like to add the Historical Chehar Bag Recreation Area, which allows you to spend time in touch with nature, to our list of places to visit in Isfahan.
In addition to being covered with lush green trees, this area also contains many historical beauties. In this area, built by Shah Abbas, you can walk to explore the surroundings, sit in the seating areas and have a pleasant time.
Atashgah
Located approximately 8 kilometers west of the city, Atashgah is one of the oldest historical places in the region.
To reach the area, also known as the Fire Temple, you have to climb about 200 meters. However, when you reach the region, a magnificent city view awaits you. From here you can photograph the magnificent view of the city and examine the historical ruins left from Atashgah.
Hasht Behesht Palace
The last stop on our list of places to visit in Isfahan is Hesht Behesht Palace. This historical palace, built by Suleiman Shah in 1660, dates from the Safavid period.
After visiting this historical building, known as the palace where the last sultans of the Safavid period spent their lives, you can visit the prominent restaurants of the city and taste delicious dishes.