Belemedik Valley is located only 12 kilometers away from Pozantı district of Adana city. Pozantı district is one of the districts that attracts attention with both its cultural riches and natural beauty areas. Every year, millions of local and foreign tourists come to the district for both sightseeing and holiday purposes. One of the must-see places when you come to Pozantı district is Belemedik Valley. This valley, known as a touristic area, is frequently visited by locals as well as those who like day trips. There are many enjoyable activity options you can do in this valley, which is considered a natural wonder. You can have a picnic, go on a nature walk, take lots of photos of nature views and have wonderful hours.
Where is Belemedik Valley?
Belemedik Valley, located in Belemedik District of Pozantı district of Adana province, within the borders of the Mediterranean Region of our country, is a region that stands out with its magnificent natural beauties. Our country has many important rivers flowing into the Mediterranean. Seyhan River is one of these important rivers. One of the remarkable branches of this river is Çakıt Stream, in other words Çakıt River. Belemedik Valley is also located on the Çakıt River. This valley is formed when the Çakıt River flows between the Bolkar Mountains, which are a tectonic mountain. There are many different natural beauty areas worth seeing in the valley. We also recommend that you bring your camera with you when coming to the region.
How to Get to Belemedik Valley?
There are multiple different transportation alternatives to go to Belemedik Valley. First of all, in order to come to this valley, you need to reach the Belemedik District of Pozantı. For this, you must access our Adana city from your current location. There are many transportation options to reach the city, such as road, air and railway. You can easily come from any point using the road with your private vehicle. Visitors who do not have a private car or those who do not want to come by private car can choose intercity buses. For this, you can buy a bus ticket from your location and travel to the city.
After arriving in the city, you can take the minibuses that travel regularly between Adana and Pozantı from the bus terminal. After arriving in Pozantı district, you can reach Belemedik District by walking from here. If you do not want to walk, you can also use taxi facilities. Additionally, there are train services to the region from Adana Train Station at certain times every morning. If you want to have a pleasant train trip, you can also come to the region by train. Another transportation alternative is by air. It is a very suitable alternative for those who want to reach the region in a shorter time. There are flights to Adana from many parts of our country.
You can buy a flight ticket from your location and then have a pleasant flight to arrive in the city. After arriving in the city, you can easily reach the region by train or public transportation, as well as by bus. If you do not want to waste time by train or public transportation, you can use taxi services or rent a private car. Also, it is important not to mention this. Many tourism companies organize daily tours to the region from time to time. Especially in the autumn period, these tours are quite common. If you plan your travel in autumn, you can participate in these tours and be a part of an enjoyable event.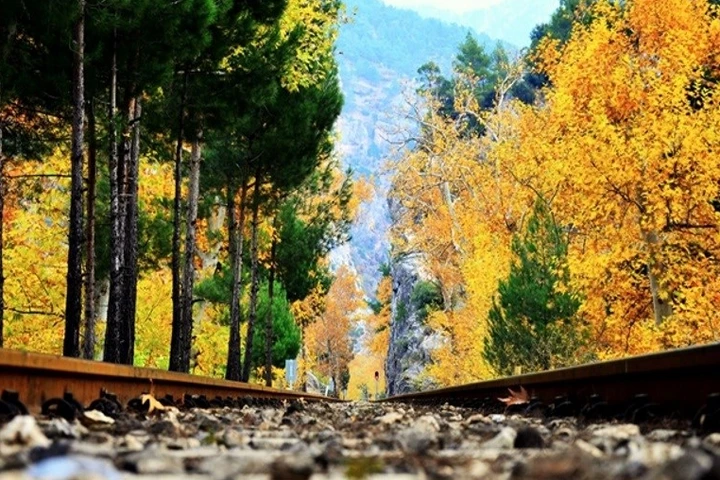 Belemedik Valley Entrance Fee
We would like you to know that you have to pay a certain fee per person to enter Belemedik Valley. However, these entrance fee amounts may differ every year. Therefore, it is better to contact authorized persons to find out the most up-to-date entrance fee amounts. The valley opens its doors to visitors at 09.00 in the morning and accepts visitors until 17.00 in the evening. This area, which is open every day of the week, is quite crowded, especially in spring, summer and autumn. It is possible to come across historical traces as well as natural beauties in the region.
History of Belemedik Valley
Belemedik Valley is a region that hosts many different natural beauties as well as cultural riches. When you come here, you may feel like killing two birds with one stone. On the other hand, you can have a picnic with your family or friends in lush green areas, go for a nature walk and even encounter wild animals. It is also possible to come across buildings made of wood along with different types of pine trees in the region. The region also attracts attention from a historical perspective as it is a place that stands out with its cultural heritage. Here, you can closely see many different cultural traces, from German historical ruins to the Byzantine, Seljuk, Roman and Ottoman Periods, and go on an enjoyable historical journey. Belemedik, known as a German town in the past, is located in an important place called the German Spring, which flows through a cave. In addition, many Anzac soldiers captured in the First World War were brought to this region to work on the Baghdad railway. You can also come across historical ruins such as prisons, cemeteries and hospitals from the German period. It is one of the places that history lovers as well as nature lovers will enjoy visiting.
Photos: Pozanti District Governorship