Sütüven Waterfall is located in Edremit district of Balıkesir, which is among the touristic cities of our country. The waterfall, located within the borders of Edremit's Zeytinli Village, is also one of the most popular natural beauty areas of our Balıkesir city. The waterfall, which is among the frequent destinations of those who want to get away from the crowd and relax, is dazzling with its flawless beauty. Every year, thousands of local and foreign tourists from outside the city visit the region. Located at an altitude of approximately 798 meters, the waterfall offers a magnificent visual feast to its visitors. The original name of the waterfall is Sutüven. But it is often referred to as Sütüven.
Sütüven Waterfall is one of the places you must see when you come to Balıkesir. There are many different activities you can do in this waterfall region, which is a natural wonder. There are many olive trees around the waterfall. You can go on a pleasant nature walk by passing through these trees. It is also possible to camp in the area with the magnificent view of the waterfall and the sound of flowing water. However, there are also wild animals in this region. That's why you should be careful while camping.
If you like taking photos, especially if you are interested in nature photography, this place is for you. There are various and different species of birds in the region. You can take photos of these birds. Those who will explore this wonderful natural beauty area of Balıkesir for the first time may ask questions such as whether they can swim in the waterfall, is there an entrance fee or are there places to eat. If you have turned your holiday route to this region, you can find all the information you are looking for in the rest of our article.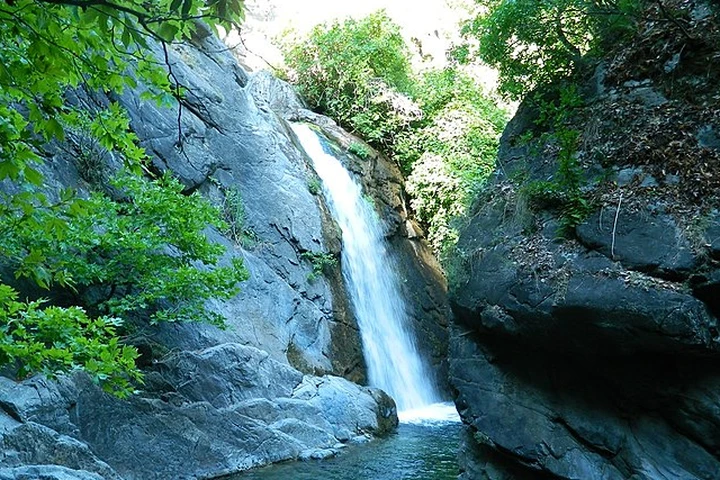 Can you swim in Sütüven Waterfall?
It is possible to swim in Sütüven Waterfall. Ponds have formed where the waterfall flows. These ponds have the characteristics of a natural pool. When you visit in scorching heat, you can dive into the ice-cold water of the waterfall and cool off while having a pleasant swimming experience. Since the water is extremely cold, you may feel a little shiver when you first enter. However, when you enter in the summer heat, it is possible to cool off very well. It is an ideal region for those who want to have a wonderful nature experience. We can say that this is the address of peace with the rustle of tree leaves around the waterfall, the sound of water flowing from the waterfall, and the magnificent view of the sun. You will be able to find peace in this region, which is among the frequent destinations of those who want to escape from the noise of the city.
How to Get to Sütüven Waterfall?
There are several different alternatives for transportation to Sütüven Waterfall. While the transportation time is shorter for those who come by private vehicle, this process may take a little longer for those who prefer different means of transportation. However, it is also an area where you can easily come from any point of the city. The distance between Balıkesir city center and the waterfall is approximately 101 kilometers. If you want to come from the city center with your private vehicle, you must first take the Altınoluk-Edremit highway. When you continue on this highway and reach the 20th kilometer, you will be greeted by the Zeytinli turnoff. After taking this turn and continuing, you will come across a narrow bridge. You need to continue by crossing this bridge. As you continue, you will come across Beyoba Village. By entering this village and following the road downwards, you can reach the area where the waterfall is located after traveling approximately two more kilometers.
If you do not have a private vehicle or do not want to come with a private vehicle, there are many public transportation means such as buses that depart from the city center and districts to the region. You can easily reach the area where the waterfall is located by using these public transportation vehicles. You can also benefit from taxi services or rent a private car to get there easily.
Is Sütüven Waterfall Paid?
A certain fee is charged for entrance to Sütüven Waterfall. The current entrance fee per person is 12 TL. If you want to enter with your private vehicle, you must pay 36 TL per vehicle. The entrance to the waterfall has a stony path. It is also useful to be careful when entering with your vehicle. The waterfall opens its doors to its visitors at around 06:00 in the morning. You can visit every day of the week, regardless of weekdays or weekends. Especially if you come on the weekend, it can be quite busy. That's why you can choose early morning hours. The waterfall is among the rare beauties you can see on earth. You can also do nature sports such as hiking or mountaineering in the region.
Sütüven Waterfall Breakfast Places
Sütüven Waterfall is one of the natural beauty areas that attracts attention with its magnificent view and peaceful atmosphere. In this region, which has an important place in terms of nature tourism, there are places where you can meet your eating and drinking needs. One of these places is to have your morning breakfast overlooking the breathtaking beauty of the waterfall. Sütüven Kır Lokantası Tea House is where you can make your own tea. As the name suggests, you can feel like you are in a country garden. The breakfast menu is quite extensive. You can have a perfect breakfast experience, from cheese to tomatoes, from omelette to olives. There are other alternative places to eat around the waterfall. If you wish, you can bring your own food from outside and have a picnic among the greenery overlooking the waterfall and have a wonderful day.