Gabon is a country located in the central part of the African Continent, bordering the Indian Ocean to the east and the Atlantic Ocean to the west. This country, whose capital is Libreville, attracts attention especially with its historical texture. It is a country that stands out with its many natural beauties as well as its historical texture. Since the country has a tropical climate, heat waves prevail in every season. The best time to visit the region is June or August. It is one of the spots flocked by many tourists, especially with its rainforests, historical sites and white beaches. There are many airlines that operate flights from our country to this region. However, it is important to obtain a visa and have a yellow fever vaccination before visiting the region.
Gabon is a very rich region in terms of places to visit. Lope National Park is one of the places you should definitely see when you come to the country for sightseeing or holiday purposes. Then Santa Clara Beach, Triomphal Boulevard, Gabon National Museum, Arberetum De Sibang, St. Marie Cathedral, Notre Dame De Lourdes and St. Michael's Church are also popular destinations. If you do not know where the prominent places are when you come to the country, you can benefit from this article and shape your holiday plan according to these places. When you come to this country, which attracts attention in terms of tourism, we recommend that you see the places in the list below.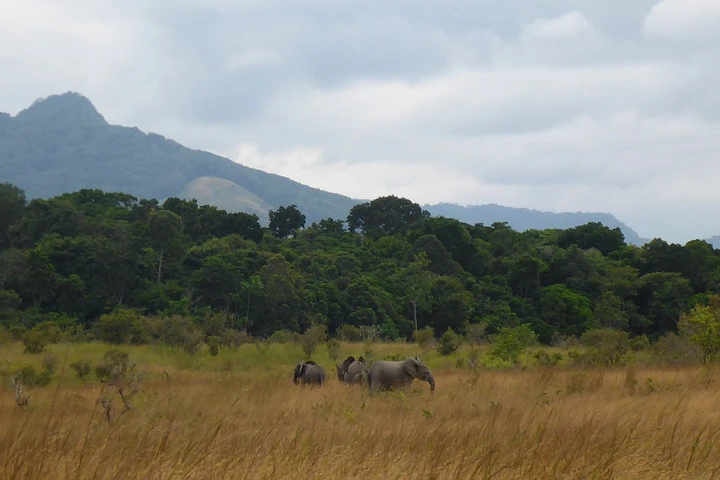 Lope National Park
Lope National Park welcomes you first on our list of places to visit in Gabon. This national park, also known as Lope National Park, consists of thirteen parks in total. In 2007, this park was included in the UNESCO World Heritage list. Located in the northern part of Gabon, a large part of this park includes rainforest.
When you visit Lope National Park, it is impossible not to admire its untouched nature. Located on a lush green area, this park is among the popular spots for tourists. You can take plenty of photos of nature landscapes, see closely the last remnants of the grass savannas that existed approximately fifteen thousand years ago, and have a pleasant day.
Santa Clara Beach
Our next stop in the country of Gabon is Santa Clara Beach, which is located on the coast of the Atlantic Ocean and fascinates visitors with its unique sea. It is a very suitable place for those who prefer to get away from the crowd and relax.
The sea is clear and clean. It is one of the beaches you will choose to cool off on hot summer days. The sandy part of the beach, whose surroundings are completely covered with trees, is completely covered with fine sand. You can enjoy the trio of sea, sand and sun on this beach, which hosts a magnificent ocean view.
Triomphal Avenue
Another stop you shouldn't miss when you come to Gabon is Triomphal Boulevard. Located in the city of Libreville, which is the largest city of the country and known as its capital, this boulevard is one of the places frequently visited by tourists.
It is possible to see many state buildings on the boulevard that attract attention with their architectural structures. There are also many restaurants here where you can taste the flavors of the region. You can explore the surroundings while walking on the boulevard.
Gabon National Museum
Among the places to visit in Gabon, there are historical places as well as natural beauties. One of these places is the Gabon National Museum, which has the same name as the country. It is among the must-see places, especially for history lovers.
Located in the capital of the country, this museum exhibits many works such as sculptures and carvings that reflect the history of the region. Those who are curious about the history of the country can visit this museum and have the opportunity to examine many historical artifacts closely.
Arboretum De Sibang
We mentioned at the beginning of our article that Gabon is very rich in rainforests. Arboretum De Sibang is a park consisting of these forests and stands out with its unique natural beauty.
The park is home to many different species of animals and plants. You cannot fully visit the country without seeing this park up close. You can take photos of various plant and animal species in the park and have a great time alone with nature.
St. Marie Cathedral
A large part of the country consists of people who belong to the Christian religion. St. Marie Cathedral also appears as a place of worship for Christians.
This cathedral, built in 1958, has great importance in terms of religious tourism. If you want to learn about both the religious beliefs and religious life of the country, we definitely recommend you to visit this cathedral.
Notre-Dame De Lourdes
One of the places that should definitely be on your list of places to visit in Goban is the religious place known as Notre Dame De Lourdes.
When you come to Goban, the exterior of this religious place, located right at the entrance, is very interesting. is. The exterior of the building consists of white and blue colors. This religious building, frequently visited by Catholics, is also the center of attention of tourists.
St. Michael's Church
Another religious place you should see before completing your Gabon trip is St. Michael's Church. Located in the capital of Gabon, this church stands out with its architectural structure.
This important church, which is frequently visited by tourists in the region, attracts attention with its thirty-one wooden carved columns. After completing your travel list, you can buy gifts for your loved ones from souvenir shops, visit restaurants and taste delicious food.