Sandıklı is a touristic district of Afyonkarahisar province, located in the Aegean Region of our country. Sandıklı, one of the most popular districts of the city, stands out with its cultural riches and historical background. It is a district that fascinates visitors with its natural beauties as well as its rich history. The district, which hosts many local and foreign tourists throughout the year, is approximately 65 kilometers away from Afyonkarahisar city center. There are many different options for transportation to the district from outside the city. These options include road and air transportation to work.
The first option for transportation by road is a private vehicle. Transportation is possible by road from big cities such as Istanbul and Ankara. Another alternative for those who do not have a private car is intercity buses. It is possible to come to the district directly by bus from many points of our country. You can easily reach Sandıklı by purchasing a bus ticket from your location. Ticket prices may vary depending on the starting point. Another transportation option is by air.
Unfortunately, there are no direct flights to Afyonkarahisar when it comes to transportation by air. Since there is no airport in the city, you can choose one of the airports closest to the region: Kütahya Zafer, Konya or Eskişehir. Depending on where you live, you can choose one of these three airports and purchase a flight ticket for transportation. After arriving at one of these three airports, you can take advantage of bus, taxi or private car rental services and set off towards Sandıklı.
Among the places to visit in Sandıklı, Akdağ Nature Park, which is considered an area of complete natural beauty, comes first. Hüdai Thermal Springs, Sandıklı New Mosque, Sandıklı Ulu Mosque, Sandıklı Castle, Sandıklı Yunus Emre Tomb and Kurtini Cave are among the places you should see after the nature park. Yes, let's start talking about the highlights of these important touristic places one by one.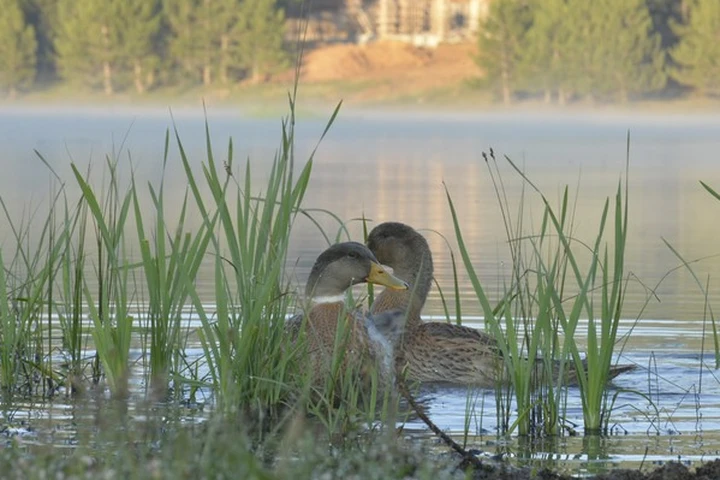 Akdag Nature Park
Akdağ Nature Park is one of the places in Sandıklı district where you can be alone with nature and be fascinated when you visit it. This park is located at an average distance of 33 kilometers from the district. If you have a private vehicle, you can easily reach there. Those who do not have a private vehicle can easily go there by using taxi services.
The park is a very rich place in terms of natural beauty. It is possible to have a wonderful day in the region, which stands out with its lush green areas, canyons and spectacular water resources. There are many enjoyable activities you can do in the park area.
You can go hiking, participate in cycling tours, camp with your loved ones and take lots of landscape photos. There is also an artificial pond in the area where the park is located. If you want to get away from the city chaos, you should definitely visit this place.
Hudai Thermal Springs
Another touristic spot among the places to visit in Sandıklı is Hüdai Thermal Springs. These hot springs, managed by the District Municipality, are of great importance in terms of thermal tourism. Public transportation vehicles depart regularly from the bus station in the district to the region. You can easily reach with these vehicles.
The water temperature of the hot springs, which are among the places that can be visited in all four seasons, is above sixty degrees. It is also said that the water of this thermal spring, which dates back to Byzantine times, is good for many different ailments. One of the most striking parts of the region is the mud bath.
You can visit these hot springs, benefit from their healing waters and take a mud bath during your trip to the district. There are also many other places in the region, from massage parlors to swimming pools, from sports centers to beauty centers.
Sandıklı New Mosque
When you come to Sandıklı, one of the places you should not end your trip without seeing is the Sandıklı New Mosque, which attracts attention with its historical atmosphere and is located right in the town center.
This mosque, known as Keçi during the Seljuk period, suffered serious damage after the earthquakes in the region and was rebuilt using wooden materials after a while. Since many renovation works were carried out, it was named New Mosque. You can pray and spend peaceful moments in this mosque, which is one of the must-visit places for those who are interested in history.
Sandıklı Ulu Mosque
Another mosque of the district that stands out with its historical texture is Sandıklı Ulu Mosque, located right across from Sandıklı New Mosque.
It was built in 1379 by Bahaddin, the son of Alaeddin Keykubat, one of the important names of the Seljuk Period. This mosque is the largest mosque in the region. This historical building, built in a square shape, has one dome. If you are one of those who like to visit historical places, we recommend you to see this place too.
Sandikli castle
Our next important historical stop among the places to visit in Sandıklı is Sandıklı Castle, which has the same name as the district. This castle, located in the Hisar District of the district, is also known as Hisar Castle.
This castle, built by Çelebi Hüsameddin Yakup Bin Umur Bey, known as the Sultan of Germiyan, is located on a mound. You may be disappointed when you visit the castle. Because only the walls remain from this historical building. However, it is still a building that you should definitely see as it is among the important cultural heritage of the district.
Sandıklı Yunus Emre Tomb
Another important historical place located in Yeni Çay Village of the district is Sandıklı Yunus Emre Tomb. There are many tombs belonging to Yunus Emre in many parts of our country. This tomb is one of them.
As its name suggests, the tomb hosts the tomb of Yunus Emre, known as the folk poet. After visiting this important tomb, you can also visit the tomb of Taptuk Emre, the teacher of Yunus Emre, located nearby.
Kurtini Cave
The last place on our list of places to visit in Sandıklı is Kurtini Cave, which is approximately 34 kilometers away from the town. You can reach the region with your private vehicle or benefit from opportunities such as taxi.
The cave, which is among the places that can be visited in all four seasons, hosts many local and foreign tourists. The cave is completely surrounded by green trees. The most striking part of the cave is the water flowing inside it, which is very rich in minerals. You can explore the surroundings in the region, take lots of photos and have great times with your loved ones.
Photos: Sandıklı Municipality