Sharm El Sheikh is located in the Sinai Peninsula of Egypt, located in the African Continent region. This place, located on the southern side of the Sinai Peninsula, is also known as the City of Peace. Many local and foreign tourists come to this city, which has many natural beauty areas and historical buildings, throughout the year. The best choice for transportation to the city is by air. Unfortunately, you do not have the opportunity to come to the region by purchasing a bus ticket. You can reach this city only by traveling by plane.
Sharm El Sheikh, which is among the regions visited in all four seasons, is known as a tourism destination. It hosts guests from many different parts of the world, especially during the spring and autumn periods. By purchasing a flight ticket from many points of our country, you can come to the region in an average of 2.2 and a half hours. Sharm El Sheikh is very rich in terms of places to visit. You can find the prominent places of the region in this article and determine your holiday plans according to these places.
Ras Muhammed National Park comes first among the places to visit. This national park is followed by Mount Sinai, Thistlegorm, Namaa Bay, Tiran Island, Ras Um Sid Beach, St. Catherine's Monastery, Colorful Canyon and Old Market. There are also many places in the region that offer accommodation. You may not realize how time flies in this city, which is extremely suitable for long holiday plans.
Ras Mohammed National Park
We put Ras Mohammed National Park, which is very popular around the world, at the top of our list of places to visit in Sharm El Sheikh. There are many fun activities you can do in this park, located approximately 38 kilometers south of the city.
If you like diving, we can easily say that this park is for you. We would not be lying if we said that Sharm El Sheikh is a complete diving center. Jolanda Reef and Shark Reef, which are among the popular spots for diving lovers, are also located in this park area.
You can also come across more than 250 coral species in the region. In this region, which has a fascinating and impressive view, you can dive, swim on its beaches and participate in sightseeing tours in the region.
Mount Sinai
While you are in the city, we recommend that you do not return without seeing Mount Sinai, which is of great religious importance. This mountain, located in the Sinai Peninsula, is the name of Prophet Muhammad. It is accepted as the place where two stone tablets were given to Moses by our Lord.
This mountain is also included under the name Tur-u Sina in our holy book, the Holy Quran. The mountain, which has an altitude of approximately 2,285 meters, welcomes its visitors with its magnificent appearance. We can say that if the time you visit this mountain coincides with sunrise, you will encounter a wonderful view.
Thistlegorm
During your trip to Sharm El Sheikh, you should definitely see the Thistlegorm ship, which lies submerged in the sea and has great historical importance.
This ship, located in the Glubal Strait in the western part of the Sinai Peninsula, is known as the British cargo ship. Today, it serves as an underwater museum. You have the chance to dive to see this ship closely. If you like diving, you can see the ship closely and have the chance to examine the remaining parts of the ship, such as motorcycles, weapons, armored vehicles, trucks and ammunition parts.
Namaa Bay
Another spot that should definitely be on your list of places to visit in Sharm El Sheikh is Namaa Bay. This bay is home to a magnificent beach that stands out with its turquoise sea.
Located in the bay of the same name as the city, this bay attracts attention with its clean and clear sea. It is not possible to find coral in this sea compared to the coral seas in the region. You can enjoy both the sea and the sun in the area where the beach is completely covered with sand.
Tiran Island
We mentioned in our article that Sharm El Sheikh is a true diving center. If you are looking for a different place for diving, you can choose Tiran Island. Boat tours are organized to reach this island, which is one of the points frequently visited by tourists.
It is known that the beaches on Tiran Island are covered with mines. For this reason, it is forbidden to go ashore during the boat tour. The boat stops at some points and offers holidaymakers the opportunity to dive. You can dive in these break areas and have a great time. You can also come face to face with many different species of fish while diving.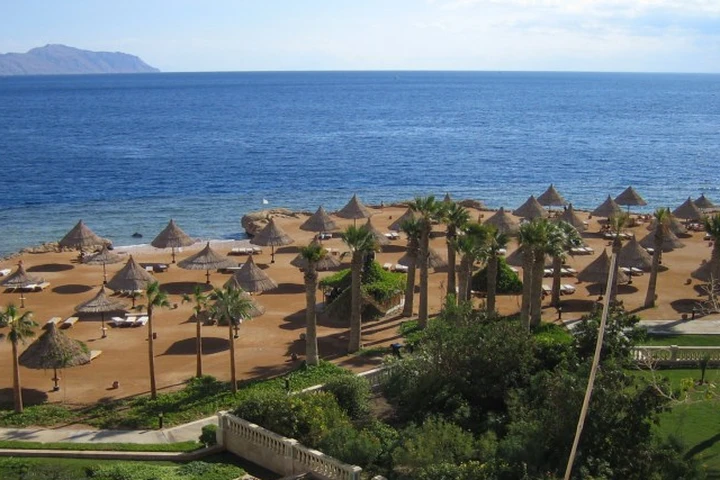 Ras Um Sid Beach
Ram Um Sid Beach is another spot in the region that gives you the opportunity to dive. Many tourists come to this beach and experience diving. We definitely recommend you to see this beach, located on the south side of the region.
You don't need to be a professional diver to dive at the beach. if side If you have the snorkel device required for diving, you can easily dive and go on a pleasant discovery tour to see the bottom of the sea.
St. Catherine's Monastery
While exploring natural beauty areas during your trip to Sharm El Sheikh, you can also add an important historical building to the mix. Located at the foot of Mount Sinai, this monastery is the oldest Christian monastery in the world.
You can come across old sarcophagi when you visit this monastery, which is ideal for those interested in historical buildings. You can also see many historical artifacts, such as manuscripts, along with different works of art, up close and spend hours full of history.
Colorful Canyon
We continue our list of places to visit in Sharm El Sheikh with the Colorful Canyon, which offers a colorful visual feast as its name suggests. We think that you should not return without seeing this canyon, which is located approximately two hours away from the city.
Located under water, with a length of approximately 800 meters, this canyon offers a magnificent view to its visitors. It is impossible not to be fascinated when you see the colorful stones in the canyons. When you go to see this impressive view, do not forget to bring your camera with you.
Guided tours to the region are organized. By joining these tours, you can visit the canyon, walk around the canyon and make wonderful memories.
Old Market
The Old Market is a prominent tourist area of this city in terms of both food and shopping. In the market, also known as the public market, you can find many flavors specific to Egyptian cuisine and see many products from ornaments to souvenirs.
In the Old Market, one of the liveliest spots in the city, you can also find many different products that reveal cultural values. After visiting these popular tourist spots of the city, you can also go on a desert safari if you wish. You can go on a desert tour by renting an ATV vehicle and complete your city tour.