Göreme is a town in the Central district of Nevşehir province, which stands out with its many touristic places, especially the Fairy Chimneys, located in the Central Anatolia Region of our country. Göreme can be defined as a region that stands out with its cultural heritage and natural beauty. Thanks to the Fairy Chimneys in the region, many local and foreign tourists visit this region every year. The town, which is also of great importance in terms of cultural tourism, is also one of the leading places in terms of pottery and earthenware production. In addition, it is also very rich in terms of food culture.
There may be many people wondering what to eat in Göreme. Before moving on to the prominent flavors of the town, we would like to talk about how you can reach this region. Those who want to come from Nevşehir city center can choose public buses departing to the region. In addition, it is possible to travel by road from every point of our country with your private vehicle. If you do not have a private vehicle or prefer another means of transportation instead of a private vehicle, you can consider the intercity bus alternative. By purchasing a bus ticket from your current location, you can easily arrive at Göreme Bus Station, located in the town.
Visitors who want to come from more distant provinces and prefer air transportation can use the nearest Nevşehir Cappadocia Airport, as there is no airport in Göreme town. To do this, all you have to do is choose among the companies that organize flights from your location to this region and buy a flight ticket. When you arrive at the airport after a pleasant flight, you can take a shuttle from here or take a taxi and get to the town faster.
Famous Dishes of Göreme
Göreme is a touristic region famous for its Fairy Chimneys. This town, which is popular in terms of tourism, also attracts attention with its food culture. You can taste many different flavors from both Turkish and World Cuisine in the restaurants you visit during your trip to Göreme. Among the prominent flavors of Göreme town are Testi Kebab, Stuffed Zucchini Flowers, Stuffed Onion, Dried Beans, and for dessert, there is Aside Dessert. If you wish, let's start examining these prominent flavors of the town, which has a rich culture in terms of food and beverage, one by one;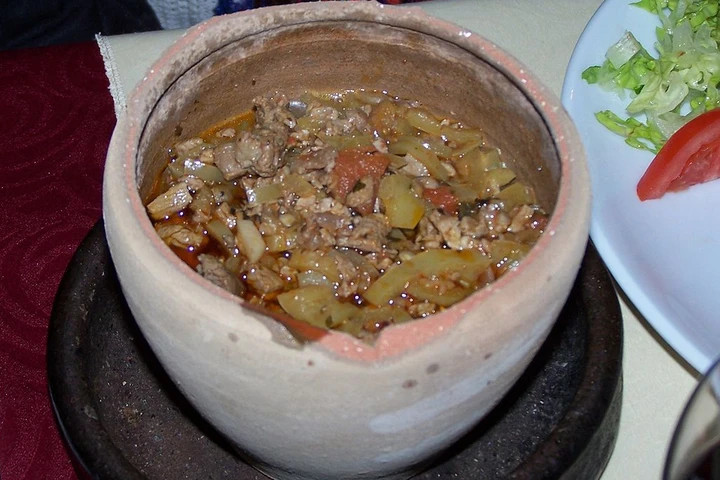 Testi kebab
We can answer the question of what to eat in Göreme with Testi Kebab, which stands out as the most famous dish of the town. The preparation of this kebab is quite laborious and takes a long time.
As the name of kebab suggests, this dish is cooked carefully in a test pot. You can find Testi Kebab, which is a combination of vegetables and meat, in restaurants that offer food services in many parts of the town. However, let's not forget to mention this. Since it takes a long time to make, it would be better to place your order without waiting too long. You can taste other flavors as an appetizer until the kebab meets you.
Stuffed zucchini flowers
When it comes to main course, the first thing that comes to mind is hot service. However, it is included in main dishes consumed cold. One of these dishes is Stuffed Zucchini Flowers.
The ingredient of this stuffing, which is one of the prominent flavors of the town, is zucchini, as the name suggests. However, this zucchini is not a zucchini bought from any market or vegetable section. It is made with pumpkins collected before the sun rises. You can try this different taste by visiting the food courts in many parts of the town.
Stuffed Onion
Another answer you can give to the question of what to eat in Göreme is Stuffed Onion. This type of stuffing is among the prominent local flavors of the town.
This stuffing actually has similar features to other types of stuffing. However, the most important difference is that the stuffing is stuffed into onions, not peppers or zucchini. You can easily find this dish, which can be made both with and without minced meat, in dining places that serve local delicacies.
Let's not leave out any important information about this dish. The one made with minced meat is served hot, while the one made without minced meat is served cold because it is made with olive oil. You can order whichever one appeals to your taste.
Haricot bean
Dried Beans are among the important delicacies of many regions. This dish, which is made both at home and in restaurants in almost every part of our country, is also cooked with a different technique in this town.
This dish, which has many varieties from sausage to pastrami, is prepared in pots in this region. Since it is cooked in a pot, its taste is quite different. It is among the flavors you must try when you come to Göreme. You can taste this dish in many restaurants serving home-cooked meals in many parts of the region.
Acid Dessert
Consuming dessert after dinner is quite common in Göreme. The most prominent dessert of the town is yal It is Aside Dessert consisting of only two ingredients.
As it is known, the city of Nevşehir, to which Göreme is located, is famous for its grapes and vineyards. This dessert is created by combining molasses and flour obtained from grapes collected from these vineyards. You can find this dessert, which is both very delicious and very light, in the patisserie and dessert shops in the town.