Beykoz is a touristic district located on the Anatolian Side of Istanbul, which is located in the Marmara Region. The district stands out with both its historical structures and natural beauty areas. There are four nature parks in total in the region, which is particularly rich in terms of nature parks. One of these is Göztepe Nature Park. The others are Polonezköy, Elmasburnu and Mihrabat Nature Park. All of these nature parks are located very close to the district. Our city of Kocaeli and Beykoz district, located in the western part of the Kocaeli Peninsula of Çatalca district, are visited by tourists, especially in the spring and summer periods. You can come to these nature parks and spend pleasant times in nature with your family or friends.
Where is Beykoz Nature Park?
Beykoz Nature Park appears as a touristic area that allows you to spend peaceful hours alone with nature. There are nature parks in the district, which host beautiful natural beauties and are known by different names. We recommend that those who plan to come to Beykoz, one of the most beautiful districts of Istanbul, also visit these nature parks. It is possible to spend quiet and peaceful hours away from the city noise in these nature parks, which are among the frequent destinations of nature lovers.
How to Get to Beykoz Nature Park?
First of all, we should reiterate that there is more than one nature park in this region. Since the location of each one is different, you can determine your route according to which one you want to go to. To reach these parks, you must first arrive in Beykoz district. Those coming from Istanbul can reach by sea or land. There are buses, minibuses or minibuses that go to the district from many points in Istanbul for road transportation. If you want to travel faster, you can come with your private vehicle or take advantage of taxi services.
For transportation by sea, you can choose the ferries that run regularly between Anadolu Kavağı and Üsküdar, or you can also come to the region with the ferries that run between Küçüksu and İstinye. You can access the operating days and hours of these ferry services online. Because there may be differences in both working days and hours due to weather conditions and some reasons. Those coming from outside the city should come to Istanbul first. Visitors who do not have a private vehicle can choose intercity buses. You can reach the city by purchasing a bus ticket from your location.
For those who plan to come by air, there are regular flights from many points of our country. Flight ticket prices and flight duration may vary depending on the starting point. After arriving in Beykoz district, you will be greeted by beautiful nature parks. As we said at the beginning of our article, there are four nature parks in this region. The first of these is Göztepe Nature Park. Since this park is located in the town center, you can easily reach it.
Another one is Polokezköy Nature Park. It is located in Polokezköy Village, which has the same name as the nature park and is affiliated with the district. Elmasburnu Nature Park, located in the Riva region within the district borders, stands out with its wonderful sea view. Finally, there is Mihrabat Nature Park, also known as Mihrabat Grove, in Kanlıca, one of the popular touristic districts of the district.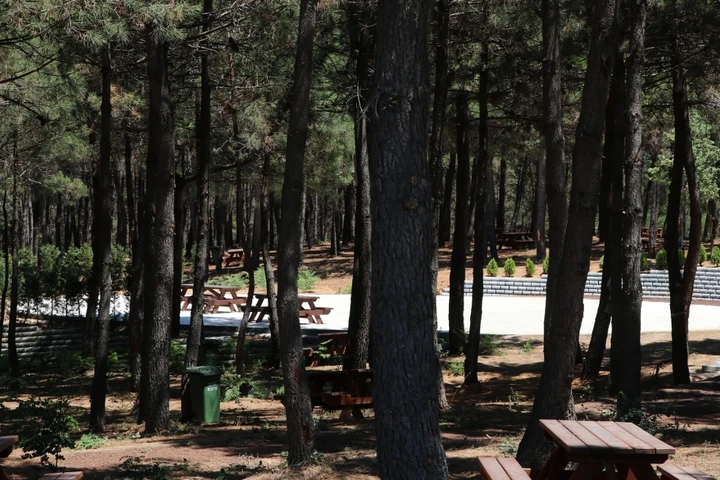 Beykoz Nature Park Entrance Fee
You must pay a certain fee to enter Beykoz Nature Parks. The entrance fee per person to all these nature parks is 21 TL. If you are out for a ride with your bike and you happen to be in one of these parks, or if you plan to come to one of these parks with your bike, you will also have to pay 21 TL for the entrance. These entrance fees are the current current amount. However, before you go, you can contact the management of the nature park you prefer and ask for the entrance fee. You can also get information about visiting hours.
Beykoz Nature Park Picnic Areas
Beykoz is a very beautiful district that hosts various nature parks and stands out with its lush green areas. There are many different areas in these nature parks where you can be alone with nature. The region is also very rich in terms of recreation areas. You can come here with your spouse, your friend or even by yourself and have a good time. You can have a picnic under the shade of lush trees, have a barbecue and enjoy nature in a magnificent atmosphere. In addition, throughout these nature parks, there are facilities such as toilets, fountains and sinks where you can meet your basic needs.
Beykoz Nature Park Breakfast Places
Nature park located in Beykoz district center and close to the district. You can start the day with a wonderful breakfast in the gardens. If you especially like mixed breakfasts, you are at the right place. For this, you can choose Polokezköy Nature Park, or if you want to have breakfast while watching the sea view, you can also choose Elmasburnu Nature Park. Beykoz Nature Park has breakfast places that stand out with their delicious breakfasts. However, let's not forget to mention this. These nature parks are quite crowded on weekends and when the weather is nice. Therefore, if you are going for breakfast, we recommend that you contact your preferred breakfast place and make a reservation in advance.
What to do in Beykoz Nature Park?
There are many different activities you can do in the nature parks in Beykoz. You can have a picnic with your loved ones by lighting a barbecue in the recreation areas, you can go on a nature walk using the walking trails to explore the natural beauties, you can stay by setting up a tent if you wish, you can relieve the tiredness of the city by sitting in camellias and gazebos, you can swim in places that offer the opportunity to swim, you can have fun with your children in areas with playgrounds. You can accompany him to spend time to the fullest, and watch the wonderful nature views in places where there are observation points. We would like to say in advance that you will not understand how time flies in these nature parks.
Photos: Beykoz Municipality