Kayaking is frequently the most scenic and finest method to experience a location. You'll be quick enough to find nooks and crannies and secluded beaches while avoiding conventional tourist traps. Furthermore, it is a fun method to acquire or keep active while on vacation.
The following locations have been rated as the best for kayaking by tourists worldwide. You may paddle through the sun-dappled, forest-fringed rivers of southern France, float in the jade waters of Halong Bay in Vietnam, or go on a daring white-water excursion in the highlands.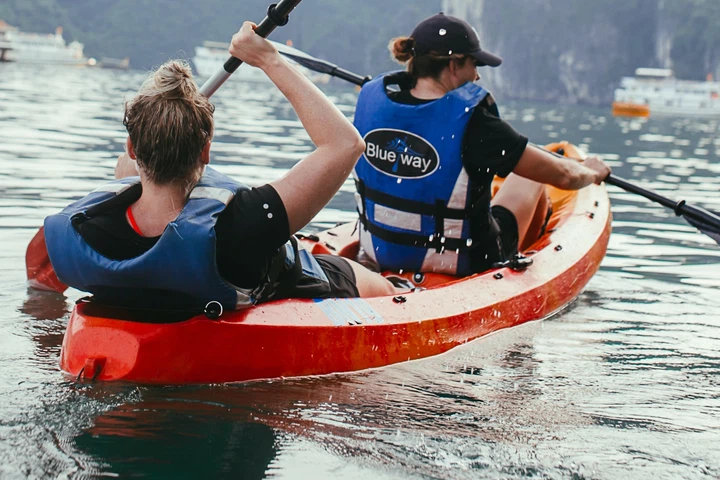 Cát Bà in Hai Phong, Vietnam
While Halong Bay is a must-see for most travelers, Cát Bà Island is still mostly unknown. It is the biggest island in the bay and has three little beach coves with warm, jade waves lapping them.
An almost entirely unspoiled sanctuary of jungle, waterfalls, caverns, and peaceful fishing towns, the island is home to a national park that is under protection. You may visit Cát Bà Island independently or as part of a longer Halong Bay excursion. Stay at Little Cat Ba, a charming spot to experience island life with to its understated design and welcoming ambiance.
Bovec in Littoral, Slovenia
For enthusiastic kayakers, the alpine village of Bovec in northwest Slovenia will be a wonderful find. It is located in the Julian Alps, in a broad valley through which the swift River Soa's blue water flows.
It's an unspoilt area with woods, glacial lakes, and wildflower meadows that's perfect for an active vacation. Apartments Supermjau, self-catering apartments in Bovec with a patio, garden, and views of the Kanin Mountains, are the perfect place to unwind after a stimulating day on the white water.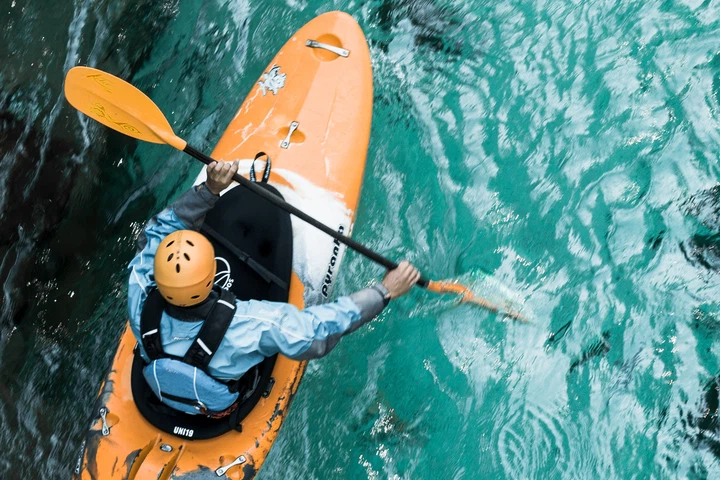 Bacalar in Quintana Roo, Mexico
The village of Bacalar, located near the tip of the Yucatán peninsula, is renowned for its seven-colored freshwater lagoon. Depending on the depth or time of day, the white sand lake bed and clear water produce a dynamic color appearance.
The 50km long and 2km broad lake may be reached by swimming, kayaking, or paddleboarding. While there, you can see the water change from turquoise to deep indigo. Stay in a thatched hut at the Hotel Sun Ha Bacalar to see the lagoon's rainbow of colors from your bedroom window.
Saint-Martin-d'Ardèche in France
The end point for kayaking journeys through the 30km-long Gorges de l'Ardèche is the historic village of Saint-Martin-d'Ardèche. The designation "the European Grand Canyon" refers to this area's enormous limestone cliffs and winding, green rivers.
Visit the Vallon-Pont-d'Arc, a statuesque natural stone arch where visitors may park their boats and enjoy a picnic. It is a good place to stop for pictures. A house called Les Chambres De Care Noù has a sun terrace that looks out over the Ardèche river and is only a 2-minute stroll from the beach.
Crystal River in Florida, USA
Florida's abundance of freshwater springs transforms the state into a subtropical Eden. Tall palm trees and vines surround the warm, clear water, which becomes turquoise blue when light reaches the deeper pools. Visit outside of the winter manatee season, when the waters are full with these lovely creatures and boating is forbidden to protect them, if you wish to explore by kayak.
Although the Crystal River is rather short, there are several rivers to explore, including the Chassahowitzka River and National Wildlife Refuge. The Hampton Inn Crystal River is a very well-reviewed hotel, boasting a swimming pool, a fitness center, and stylish décor.