Homurlu Waterfall is located in the Küçükkünye neighborhood of Develi district of Kayseri city, located in the Central Anatolia Region of our country. The waterfall, also known as a recreation area, is one of the natural beauties of the city worth seeing. The waterfall, which is among the frequent destinations of many people who come to Kayseri, fascinates those who come with its magnificent appearance and loudly flowing water. Especially in spring and summer, many local and foreign tourists flock to this region. The waterfall also hosts a wooden bridge that stands out with its magnificent view.
There is a lot of greenery in the region, which is frequently visited by nature lovers. Surrounded by trees, the view of the waterfall is like a postcard. Here you can go for a nature walk, take nature photographs, sit under the shade of the surrounding trees, have a picnic with your family or friends in the recreation areas, relax and have peaceful times. The surroundings of the waterfall and picnic areas were arranged by Kayseri Metropolitan Municipality and Develi Municipality. It is an ideal place for those who want to have a peaceful and quiet holiday.
Every year, many holidaymakers come to the region for sightseeing, holidays or weekend getaways. This waterfall is frequently preferred by those who want to relax and have a quiet holiday. It is important for those who will visit the waterfall, especially for those who come for the first time, to learn the directions correctly. In our article, you can find all kinds of details, from how to get to the waterfall to entrance fee information. Without keeping you waiting any longer, let's get into the details.
Can you swim in Homurlu Waterfall?
It is possible to cool off by entering the ice-cold water of Homurlu Waterfall. This waterfall, flowing loudly like a waterfall, especially in the summer, offers a visual feast to its guests with its magnificent view. It is forbidden to go to the top of the waterfall flowing between the rocks. Because the top part is very dangerous in terms of falling. Therefore, especially families with children need to pay extra attention to this issue. Additionally, there is no playground specifically reserved for children. Therefore, to prevent children from getting bored, you can bring toys that will entertain them. You can walk around the waterfall, dip your feet in the ice-cold water, and have a wonderful time alone with nature.
How to Get to Homurlu Waterfall?
How to get to Homurlu Waterfall is important for those who will visit the region. Unfortunately, it is not possible to come here by taking public transportation such as buses and minibuses. You can only come to the waterfall, which is approximately 90 kilometers away from Kayseri city center, with your private vehicle. If you do not have a private vehicle, you can use taxi options or rent a private car to reach the region. There are two different route alternatives for holidaymakers coming from Kayseri city center with their private vehicles. The first of these is to go via Tomarza road. However, since this route passes through villages, it may negatively affect the arrival time and extend it further. Another road option is to follow the Develi road. When you follow this route, you can get to the location of the waterfall in a shorter time. Those coming from out of town or planning to come should first arrive at Kayseri city center. Then, they can go to the waterfall by choosing one of the two path options we have mentioned.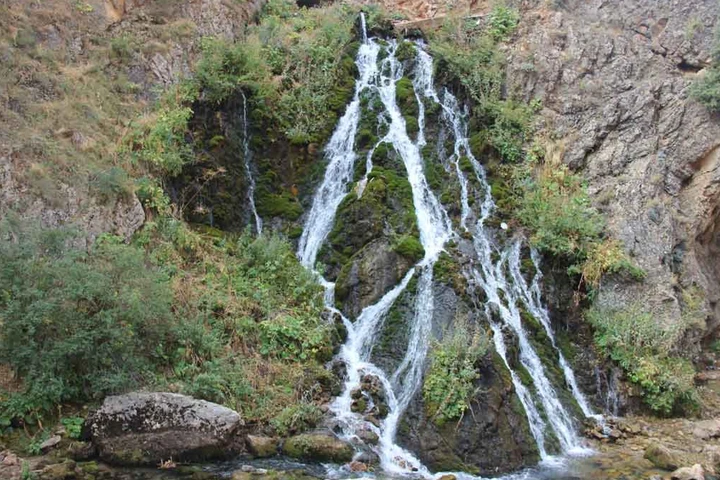 Is Homurlu Waterfall Paid?
You do not need to pay any fee to enter Homurlu Waterfall. It gets quite crowded, especially in the summer and early in the morning on weekends. Therefore, it is recommended to arrive before 9:00 in the morning. The region is among the spots preferred by those who want to get away from the chaos of the city. It is also home to a huge recreation area. There are also places with barbecue in the area that allow you to barbecue. You can have a barbecue with your family and loved ones overlooking the wonderful waterfall view and spend peaceful times listening to the sound of the waterfall flowing loudly. There is no time restriction for visiting the area where the waterfall is located. It is one of the places where you can come at any time of the day, take lots of nature photos, walk around the waterfall and be alone with the lush green nature.
Homurlu Waterfall Breakfast Places
There is no breakfast place in the area where Homurlu Waterfall is located. There is a kiosk where you can buy snacks or drinks. There are many recreation areas here. There are camellias in the recreation areas. There are also picnic tables with roofs. You can bring your own food from outside, sit in the camellias and have a pleasant picnic experience overlooking the waterfall. If you wish, you can buy it from outside and bring it in.
Now you can barbecue yourself. There is also a masjid in the area along with the toilet where you can go to for your toilet needs. It is possible to have a quiet holiday in this region, which is one of the places where you can enjoy peace, away from the noise and crowds.
Photo: Develi Municipality