Abant is one of the important tourism points of the Mudurnu district of our Bolu city, which is located in the Black Sea Region of our country. Access to Abant, which is approximately 34 kilometers from Bolu city center, is also very easy. Especially due to its proximity to Istanbul, many people come to Abant from this city for both daily and holiday purposes.
There are intercity buses departing from many points of our country to Bolu. After arriving in the city center, you can choose the public transportation vehicles that go to Abant from this point, or you can take the fastest taxi. Abant is a touristic place that stands out with its magnificent and unique natural beauty areas. Offering fascinating beauties to its guests in every season, Abant is very crowded especially in summer and autumn seasons due to domestic and foreign tourists coming from outside the city.
There are many places where you can explore in Bolu Abant. We can say that this region is a natural wonder. Abant Nature Park comes first among the places to visit in Bolu Abant. Then you can complete your sightseeing route by adding Yedigöller National Park, Örmeci Highland, Sinekli Highland, Gölcük Nature Park and Abant Village Market to your list of places to visit. You can read the rest of our article to know more about these places.
Abant Nature Park
Abant Nature Park is one of the first places you should visit in Bolu Abant. Abant Lake, which stands out with its unique beauty, is undoubtedly the first thing that comes to mind when Abant is mentioned. The park, which includes this lake, covers an average of 1200 hectares.
The region, which is frequently visited during the winter months; It is home to various tree species such as oak, yellow pine, poplar, fir, beech and hornbeam. Since there is a lake where the park is located, the weather is usually a little cool here in all seasons. Therefore, we recommend that you take a cardigan with you if you are visiting in summer or autumn. You can go hiking in the area, camp around the lake and take pictures of nature landscapes. You can also ride a bike and explore the surrounding area. There are also places that provide bike rental services.
There is also a Nature Museum in the park, which is among the frequent destinations of those who want to spend peaceful times alone with nature. While you are in the park, you can also visit this museum, where the stuffed animals that lost their lives from the cold are exhibited.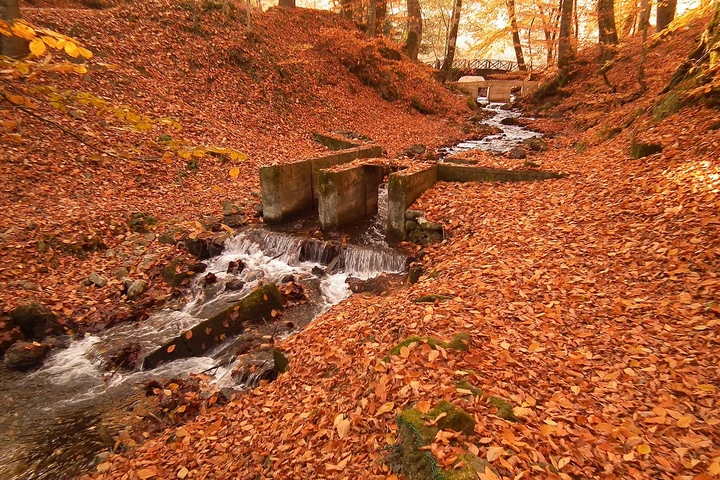 Yedigoller National Park
When you come to Abant, we recommend that you do not end your holiday without seeing the Yedigöller National Park, which is very rich in terms of lakes. Located on the north side of the city, this national park is approximately 2 hours away from Abant. However, it is a must-see place when you come to Bolu.
As its name suggests, this national park, which consists of a total of seven lakes (Küçükgöl, İncegöl, Sazlıgöl, Nazlıgöl, Büyükgöl, Deringöl and Seringöl), has a beauty that will not look like paradise. This park, which hosts many tourists especially in the spring and autumn seasons, is completely covered with wooded areas. In this park, which is very rich in terms of both a lake and green areas, you can go for a nature walk, photograph the beautiful images that do not look like postcards, have a picnic or set up a tent if you want to stay.
There are also bungalow houses around the lake that offer accommodation. By adding this park to your list of places to visit in Bolu Abant, you can spend a pleasant day away from the noise of the city.
Örmeci Plateau
When we come to Abant, we think that the trip will not end without visiting the highlands that stand out with their clean air and oxygen. Located on the Abant road, this plateau is ideal for those who want to get away from the crowd.
There are many areas where you can camp in the plateau region. However, if you are going to camp, you need to bring all the equipment with you. There are also benches in the area where you can sit and observe the surroundings. The plateau is often visited during the spring season. You can also go for a nature walk and take lots of photos of the plateau, which has a fascinating beauty with its unique appearance.
Sinekli Plateau
Another plateau that you should definitely add to your list of places to visit in Bolu Abant is Sinekli Highland. Located on Lake Abant, this plateau offers a peaceful environment to its visitors. It is frequently visited by tourists as it is close to the lake.
You can also camp on the plateau, which is among the frequent destinations of those who want to relax. In addition, plateau festivals are held regularly in the region in July every year. If you coincide with your trip or holiday this month, you can join these festivities and spend hours of fun.
Golcuk Nature Park
When you come to Bolu Abant, one of the places you should not return without seeing is Gölcük Nature Park. Approximately 13 kilometers from the city center The park, which is located at a distance of 5,000 miles, is approximately 47 kilometers from Abant.
It is ideal for those who want to spend peaceful times with its lush nature, unique and fascinating lake and calm structure. There are various activities you can do in the area. You can take a lot of landscape photos, have a picnic with your loved ones around the lake, have a barbecue or set up a tent camp against the lake.
The area is very crowded, especially on weekends. So it is better if you have the chance to come on weekdays. We recommend those who come for a weekend break to visit early in the morning.
Abant Village Market
It would be impossible not to add the village market, where local delicacies are served, to your list of places to visit in Bolu Abant. Regional and organic products are sold in this famous village market located at the entrance of Abant.
In addition, there are gift shops in the market where you can buy gifts for friends. You can visit this market built in a wooden structure and have a pleasant day.