Güzelyalı is a holiday town in the Mudanya district of Bursa province, located in the Southern Marmara part of the Marmara Region. This place, which is among the natural beauties of Mudanya district, is also of great importance in terms of tourism. Since Mudanya is located very close to the town center, we recommend that you stop by while visiting the town. There is an influx of visitors to this region, especially from the cities of Istanbul and Bursa. You can come to Güzelyalı for a weekend getaway or for a day trip. The best time to visit the Güzelyalı region is summer. You also have the opportunity to swim in the region where the summer months are hot.
There are two different options for transportation to the region. While one of these options is by land, the other is by sea. Especially guests planning to come from Istanbul can prefer BUDO sea buses departing from the Eminönü region. Additionally, IDO flights are organized to the region from Kadıköy and Yenikapı. If you are going to come by intercity buses, you should choose the bus companies that go to Bursa. You can come to Bursa by purchasing a bus ticket from your location, then reach Mudanya and then Güzelyalı. Those who plan to come from more distant provinces may prefer transportation by air.
You can buy a flight ticket by choosing one of the airline companies traveling to Bursa Yenişehir Airport from your location and easily reach the region. Güzelyalı stands out in terms of places to visit, especially with its beaches. Güzelyalı Beach is one of the places you should visit when you come to the region. Then, you can also visit Burgaz Public Beach, Burgaz Altınkum Beach, Mudanya Red Crescent Camp and Tahir Pasha Mansion. Since Mudanya and Güzelyalı towns are close to each other, you have the chance to kill two birds with one stone. We recommend you to read the rest of our article to get more detailed information about the places to visit in this region, which has become a center of attention for tourists and an important holiday destination.
Guzelyali Beach
When you come to Güzelyalı, the first place you should visit is undoubtedly Güzelyalı Beach. There are many different activity options where you can have a pleasant time on the beach.
If you want to go for a long walk, you can walk along the beach. You can take a peaceful walk on the beach, accompanied by the fresh sea air, and watch the surroundings. If you get hungry, you can grab a snack from the food courts on the beach and have a great time overlooking the sea view. You can also engage in angling activities in the area.
Burgas Public Beach
Another stop on our list of places to visit in Güzelyalı is Burgaz Public Beach, which is impressive with its deep blue sea. Since the old name of Güzelyalı coastal town is Burgaz, the name of this beach is Burgaz Public Beach.
Located between Mudanya Pier and Güzelyalı Port, this beach stands out as a public beach, as its name suggests. There are not many places where you can meet your basic needs in the area where the beach is located. That's why we recommend that you keep what you need with you. You can swim, enjoy the sun and have a pleasant time at this beach.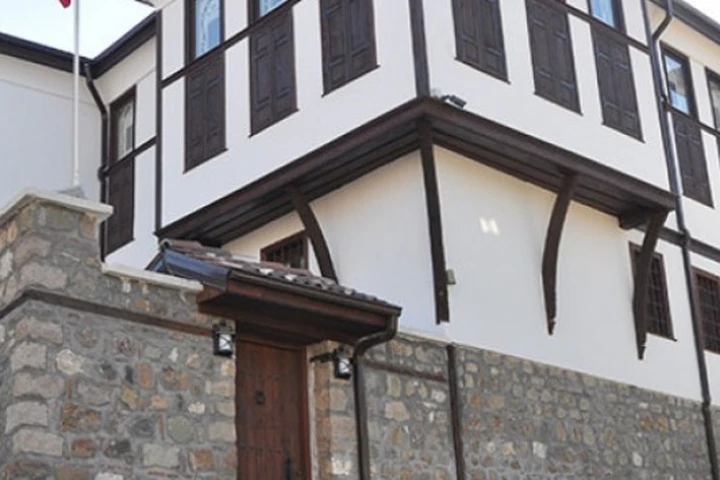 Tahir Pasha Mansion
If you want to take a historical tour while visiting the coastal town of Güzelyalı, we recommend you to stop by Tahir Pasha Mansion. Since this mansion is located in Mudanya district, you can easily reach it either with your private vehicle or by taxi.
This mansion, which has great importance for the history of the Republic, was built in 1724. The mansion, which consists of a total of eighteen rooms, currently serves as a museum. In the museum, you have the chance to see many historical artifacts closely, from important belongings of Tahir Pasha to motifs and decorations reflecting the Tulip Era. If you are interested in history, we recommend that you visit this museum.
Burgas Altinkum Beach
We mentioned in our article that since Güzelyalı is a coastal town, it is famous for its beaches. Another area where you can swim and enjoy swimming is Burgaz Altınkum Beach, located in the eastern part of the town.
As its name suggests, this beach stands out as a sandy beach. Both the coastline and the bottom of the sea are completely covered with sand. There is a business on the beach where you can meet your needs such as sun loungers and umbrellas. There are also services such as changing cabins and showers. It is among the spots where you can enjoy the sea, sand and sun.
Mudanya Red Crescent Camp
Another touristic place on our list of places to visit in Güzelyalı is Mudanya Red Crescent Camp. We think that while we are in the town of Güzelyalı, we cannot do without seeing the Red Crescent Camp, which is approximately 8 kilometers away from the town.
You can come to the region with your private vehicle You can also benefit from taxi services. The surroundings of this camping area, which appears as a beach, is completely covered with greenery. In this region where blue and green come together, you can both swim in the sea and enjoy the lush nature. The beach in the region is divided into two: paid and free. You can choose according to which side you want to swim.
Photo: Mudanya Municipality