Küp Waterfall is located in the Aladağ district of Adana city in the Mediterranean Region of our country. The waterfall, located near the Küp Village of the same name in Aladağ district, is seen as a natural wonder. It is one of the places that should be seen closely by those who happen to be in Adana or who will come to the city for a holiday. Every year, many local and foreign tourists come to the area where the waterfall is located. This waterfall, which has a fascinating beauty, actually consists of ten waterfalls in total. Küp Waterfall, which emerged as a result of the combination of these ten waterfalls, is also known as Aladağ Küp Waterfall.
The waterfall, which is among the natural beauty places of Adana, was found by chance as a result of the impoundment of water by a dam built in the region. Today, it is one of the most frequently visited regions. There are many trees of different species around these waterfalls, which are located in a canyon of approximately one and a half kilometers. We can say that it is perfect for those who want to relax and spend peaceful hours, even if just a little bit. You can create unforgettable memories in a lush green nature, accompanied by the sounds of birds humming like songs in your ears.
One of the most curious topics about the waterfalls for those who want to come to Adana for a holiday or a weekend break is how transportation will be. In addition, questions such as whether you can swim in the waterfall or how much is the entrance fee are frequently asked. You can easily find the answers to all these questions in this article. You can spend peaceful hours at Küp Waterfall, one of the most beautiful natural beauty areas of Adana, explore the surroundings or have a nice picnic with your family. You will not understand how time flows like a waterfall in the region.
Can you swim in Küp Waterfall?
Küp Waterfall is one of the natural beauties that stand out with both its appearance and greenery. There are ponds right near the waterfall. It is possible to have a pleasant swimming experience by entering these ponds. On days when the summer heat is at its most scorching, you can cool off by swimming in the pond and have a great time. The view of the waterfalls in the canyon is a blessing, especially for nature photographers. You can take lots of photos in the area, go for a nature walk around the waterfall, or have a picnic by bringing food from outside. After exploring the surroundings, you can immerse yourself in the ice-cold water of the pond to cool off a little.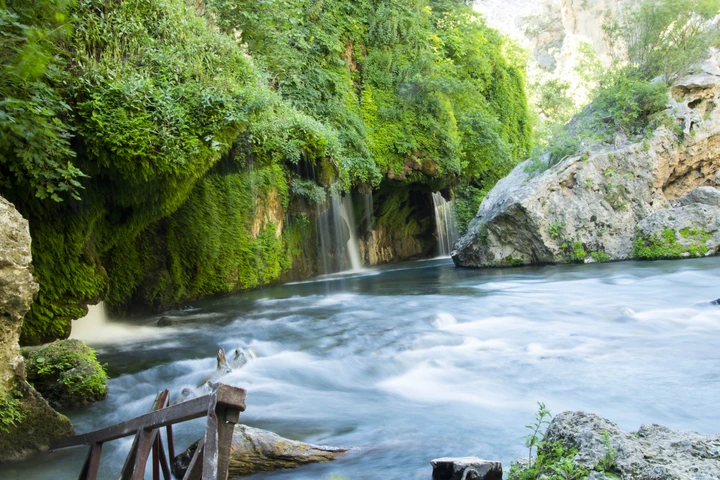 How to Get to Küp Waterfall?
There are many options for transportation to Küp Waterfall. It is located in an easy to reach area. You can choose one of the private vehicles or public transportation to go to this natural wonder waterfall located on Zamantı River, one of the branches of Adana's Seyhan River. Those who want to come via private vehicle from Adana city center should first go towards Küp Village of Aladağ district, where the waterfall is located. After arriving at the village, you can reach the waterfall by following the Küp Waterfall signs.
Another option is to go via Mansurlu Plateau Road. To do this, you should enter the Kozan road from the city center, and about ten kilometers from this road, enter the Mansurlu-Yahyalı road and turn left. After turning left, you need to proceed without stopping until Salmanlı Village. After passing the village and the bridge over the river you will come across, you should continue by turning left. You will see road signs pointing to the waterfall. You can reach the region with the help of these signs.
Apart from a private car, you can take city buses from the city center to Aladağ district or rent a private car. Additionally, tours to the region are organized at certain times of the year. You can also come to the region by participating in these tours.
Is Küp Waterfall Paid?
You do not need to pay any fee to enter Küp Waterfall. It is one of the most beautiful places where you can enter and visit for free, spend time in nature and breathe in the clean air with plenty of oxygen. You can also visit any day of the week and at any time. There is no time limit on visiting. However, if you want to pitch a tent and camp in the waterfall area, you must pay a certain fee. This fee information may change every season. Additionally, different events are organized in the region. A fee may also be required to participate in these events.
Küp Waterfall Breakfast Places
There are many places where you can meet your eating and drinking needs in the region, which hosts many local and foreign tourists throughout the year. The issue of Küp Waterfall breakfast places is extremely important, especially for those who will come to the region. There are some places that offer breakfast service in and around the waterfall area. Magnificent waterfall landscape in the early morning You can start the day by having your breakfast, then drink your tea or coffee, go for a walk to explore the surroundings, and when you want to cool off, you can swim in the ponds in the area. We recommend that you visit this place, which is open to visitors in all four seasons, especially in the summer.