Dinar is a touristic district of Afyonkarahisar province, located in the Aegean Region of our country. Located approximately 106 kilometers away from the city center, the district attracts attention with both its natural beauty areas and places steeped in history. Throughout the year, many local and foreign tourists come to the district for both sightseeing and holiday purposes. Transportation to Dinar district is extremely easy. You can come by private vehicle or by intercity buses from many points of our country. To do this, you can buy a bus ticket from the bus companies that organize trips to Dinar from your region.
There are two different route options for those who want to come to Dinar district by air. Unfortunately, there is no airport in Afyonkarahisar. Therefore, you need to land at one of the airports in Kütahya or Denizli, which are close to the city. You can go to one of these two cities by purchasing a flight ticket from your region. Afterwards, you can reach Afyon and then the district by taxi or public transportation. There are many places worth seeing in Dinar District.
Sucikan Park comes first among the places to visit in Dinar. Then there are Gümüşsu Waterfall, Eldere Lake, Zenderi and Cerit Plateau, Norgaz Picnic Area, Pantheon Temple (Temple of the Council of Gods) and Apameia Ancient City. We recommend that you add these places when creating your Dinar travel list.
Sucikan Park
The first place on your list of places to visit in Dinar is Sucikan Park. The park stands out with its tremendous beauty. There is a Marsyas Statue right at the entrance of this park located in the district.
The park, which is among the spots that can be visited in all four seasons, has seating areas that offer the opportunity to watch the magnificent nature. You can take lots of landscape photos in the region, breathe in the fresh air and have a great time. The park also hosts a waterfall that offers a wonderful visual feast. This waterfall fascinates its visitors with its appearance, especially since it freezes in winter.
There is also a museum in the park where agricultural tools from the region are exhibited. When you visit the park, you can spend time alone with nature and visit the museum.
Gumussu Waterfall
Another place you should definitely see when you come to Dinar district is Gümüşsu Waterfall. This waterfall, also known as Homa Waterfall, is one of the places frequently visited by tourists.
Located within the borders of Afyonkarahisar city and Denizli's Civril district, this waterfall is an ideal place for those who aim to take a nature trip. It is possible to have a pleasant time in this region, which is quite crowded, especially in the spring and summer months. You can also drink water from the waterfall to cool yourself down on hot summer days.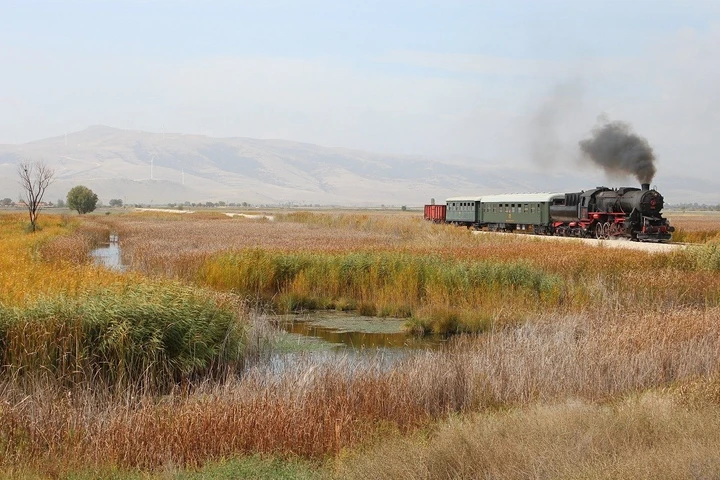 Lake Eldere
One of the most beautiful spots where you can watch the sunset when you come to Dinar is Eldere Lake. This lake, which stands out with its magnificent appearance, is located in Eldere Village within the district borders.
The lake attracts attention especially with its legendary stories. When you come to visit the region, we recommend that you listen to these stories from the local people. The best time to visit the area where the lake is located is summer. When you come to the area, you can take photos of the magnificent lake view and sit at the eating and drinking places by the lake and sip your tea or coffee while looking at the view.
Zenderi and Cerit Plateau
Our next stop on our list of places to visit in Dinar is Zenderi and Cerit Plateau, which allows you to stay in touch with nature. If you want to spend a quiet day in an environment with plenty of oxygen, we can say that this plateau is just for you.
One of the most important features of the plateau, which is among the frequent destinations of nature lovers, is the hair tents. Additionally, if you want to embark on an adrenaline-filled adventure, you can also do paragliding in this region.
Norgaz Picnic Area
If you want to have a picnic during your Dinar trip, you can choose Norgaz Picnic Area. You can enjoy nature and have a pleasant time in this picnic area, located approximately 7 kilometers east of the district.
The area around the picnic area is completely covered with forests. You can have a picnic with your family or loved ones in the clean air and create unforgettable pleasant memories.
Temple of the Pantheon
After visiting the natural beauty areas on your list of places to visit in Dinar, we recommend that you also visit the historical places. One of those historical places is the Pantheon Temple.
Located on a hill in the Topteke District of Dinar district, this temple is one of the structures that history lovers should definitely see closely. It is possible to visit this structure, also called the Temple of the Gods, at any time of the day.
Apameia Ancient City
Dinar district This ancient city is one of the must-visit places for those who love visiting historical places. B.C. It is possible to come across many historical ruins in this city, which was built in the 6th century.
In the ancient city, you can see the ruins of buildings such as churches, stadiums and theaters from Roman times. You can also come across historical traces reflecting the Hellenistic period. You do not need to pay any fee while visiting the ancient city. You can come and visit this region full of history at any time of the day.
Photo: Dinar District Governorship