Tallinn Flight Ticket
Tallinn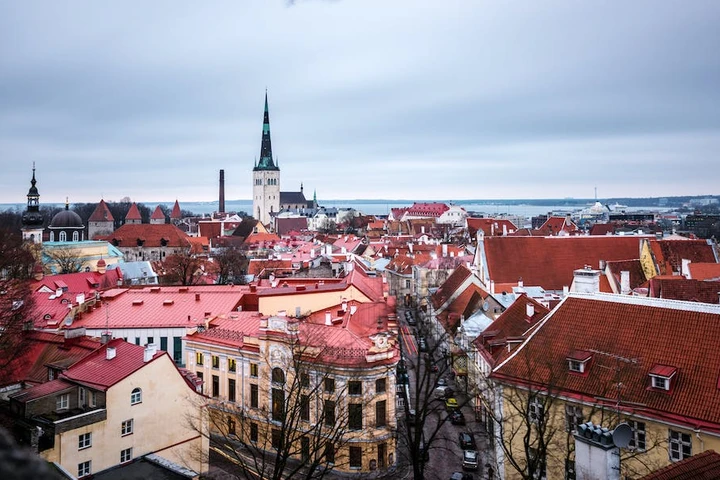 Information about Tallinn, Places to Visit, What to Eat?
Buy a Tallinn flight ticket and fly to the capital of Estonia. This city is not only the capital of Estonia, but also the financial, cultural and industrial center of the country. As a matter of fact, it deserves this position as one of the 10 most digital cities in the world and as the city with the highest number of companies per capita among the European Union member countries. World-renowned companies such as Skype, Wise, Bolt have expanded to the world from Tallinn.
Tallinn was chosen as the cultural capital of Europe in 2011. However, it is not just this level of development that makes this a special city. The city, located on the shores of the Gulf of Finland in the Baltic Sea, was added to UNESCO's World Heritage list in 1997. It offers its visitors a fascinating travel experience with its magnificent structures from the Middle Ages, its reddish sunset view and its beautiful, though not well-known, beaches.
Tallinn is a city like an open-air museum for visitors who are interested in historical buildings, and one of the most surprising cities for visitors who are interested in experiencing different city experiences during their travels and interested in country standards.
How to Get to Tallinn Airport?
By purchasing a Tallinn Flight Ticket, you can fly directly to Tallinn Airport without transferring. There is a 3 and a half hour distance between the airport and the city center. If you wish, you can easily reach the city center by using public transportation, which provides free transportation to all parts of the city. If you fly to Riga Airport, you can travel intercity with Tallinn buses. If you fly to Helsinki, you can reach Tallinn by making a pleasant journey by ferry.
Transportation to Tallinn
You can use sea, road and air means to reach Tallin. For journeys from distant countries, the fastest and most reliable means is the airline option.
Airlines with Flights to Tallinn
• Turkish Airlines
• Corendon Airlines
• Lufthansa
• Qatar Airways
• Ryanair
• EasyJet
•Air France
• Aeroflot Russian Airlines
• LOT Polish Airlines
• Scandinavian Airlines
What are the places to visit in Tallinn?
Tallinn, the cultural capital of Europe, has many places for visitors to visit. You can organize your tours in this city either to see historical buildings, to go on a culinary tour, or to calmly join the life of the city. As a rich city, Tallinn has a wealth of destinations that can offer you all these types of travel.
The most iconic of the many magnificent buildings remaining from the Middle Ages is St. Petersburg, which has become the symbol of the city. Olaf's Church and its 124-meter tower.
When you enter through the old waterways at the beginning of Pikk Street, you reach the Old City Center, where traditional shops continue to be operated today.
Viru Gate, Keterina Passage and City Hall, Raekoja Square with restaurants where you can discover Estonian cuisine, St. Catherine's Passage and Toompea viewing hill are other important stopping points in the city.
The Rocca Al Mare Open Air Museum, where you can visit the Estonian houses, some of which were dismantled and brought from different villages, dating back to the 3rd century, and the Dome Church, which has a gothic style and was rebuilt after a fire in the 17th century after being destroyed in the 13th century, are also among the attractions of many tourists in the city. It is one of the famous destinations that attracts attention. Alexander Nevsky Cathedral, another important building where you can see the Russian influence in the city, and the colorful flowers and trees of different species in its garden, the Palace built in the name of Queen Katerina in 1718, and the picture gallery covering a part of it are other famous places that we recommend you to see.
What is Tallinn's Currency?
Euro is also used as the currency in Tallinn, the capital of Estonia, a member of the European Union.
Is Tallinn an expensive country?
Tallinn is an expensive city compared to other European countries. It is possible to say that it is a city with high costs for food, accommodation and shopping. The fact that public transportation in the city is free reduces transportation costs.
What are the famous dishes of Tallinn?
Seafood is one of the main ingredients in Tallinn cuisine, as in other Baltic countries. Tallinn, which has been governed by different states throughout its long history and has therefore been in contact with many different cultures, has a culinary culture that blends these different cultures. Thanks to its rich cuisine containing many different ingredients, you can encounter a variety of dishes that you will not have difficulty in eating.
Sprat, a common fish species in the Baltic Sea, is very important in the cuisine of Tallinn, as well as other coastal cities. In addition, salmon and trout are other important fish dishes of the cuisine. It is one of the varieties. Meat, sausages, potatoes, cream, pickles, cabbage and bread are other indispensable products. Eston bread, Leib brown bread, peeleib or sepik are special breads that you can taste before returning, or maybe buy as a gift for your loved ones when you return.
Does Tallinn Require a Visa?
In order to enter Tallin, a European Union city, you must obtain a Schengen Visa if you are a citizen with a maroon passport. However, citizens with gray passports or green passports do not have to obtain a visa for their touristic travels, provided that the period does not exceed 90 days.
What is the Official Language of Tallinn?
The official language in Tallinn is Estonian. Russian, English, German and Swedish are other languages circulating in the city. The country's high level of education ensures that almost every citizen can speak English. In this way, there are no communication difficulties for visitors in the city.
What are Tallinn's climate conditions?
In the city where the continental climate prevails, the coldest month is February, which can reach -4 to -5 degrees. The hottest period is July, when temperatures can reach 18-19 degrees. In the city where winter is dominant, daily life and event calendars are shaped in line with the winter months. For this reason, although the winter months are cold, they are also a period where many heart-warming activities take place. An unexpected and therefore surprising piece of information from a northern country is that its beaches are very suitable for a sea holiday in the summer months.
How Many Days Does It Take to Visit Tallinn?
You will have a long travel route in Tallinn, which, on the one hand, offers the opportunity to experience many new experiences as it is the most modern city in the world, and on the other hand, hosts beauties and magnificent historical buildings that you should see in every corner of the city with its impressive nature. Therefore, if you have the opportunity, we recommend that you spare 3 days to enjoy the city.
Which Vehicles Are Used in Urban Transportation in Tallinn?
You can use completely free public transportation to get around the city in Tallinn. Its small size makes the city suitable for walking. Thanks to the free Wi-Fi service that you can connect to at every point, you can easily walk to the locations you want to go to by using map applications. On days when the weather is suitable, using a bicycle for urban transportation is also very enjoyable.
What is the Nightlife in Tallinn?
Compared to other Baltic country cities, Tallinn is a country whose nightlife can be considered lively and colorful. However, nightlife is characterized by activities. For this reason, it is not possible to say that it is one of the important tourist areas for Tallinn that appeals to everyone. It may not be a satisfactory city for nightlife as much as it is for technology, culture and history travels.
Tallinn Popular Destinations