Denmark Flight Ticket
Denmark
Denmark Country Guide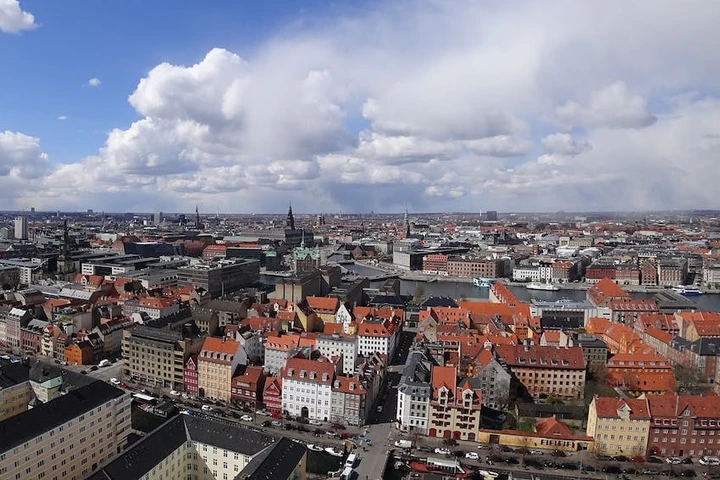 Information about Denmark, Places to Visit, What to Eat?
Buy a flight ticket to Denmark and fly to the happiest country in the world. Depending on what you expect from a happy country, what you will find varies. When you see babies sleeping in strollers left in front of closed areas so that they can sleep in the fresh air, you will definitely have to think about how this happiness is related to development. As a matter of fact, Denmark is one of the most developed countries in the world. This development is, of course, shaped by economic indices. It also enables the development of factors such as social empathy, gender equality and social trust. Located in the southernmost part of Scandinavia, this northern country consisting of over 400 fjords can offer you a social experience as well as its tourist attractions. It will give you an uninterrupted visual delight with its well-ordered cities, the stylish presence of almost every person you meet on the street, and the variety of baked goods baked in its famous bakeries. Denmark is a country that can appeal to many different travel expectations, with its magnificent structures dating back to the Vikings, its fascinating libraries, and those who live in hot climates and are curious about daily life in cold climate countries. If you want, you can spend a few days where you can wear all your favorite winter clothes inspired by the Danes and get your fill of style, or you can taste the food in the country, or you can follow a historical route. Of course, it is possible to experience all of these at once.
How to Get to Denmark Airport?
By purchasing a Denmark Flight Ticket, you can fly directly to Denmark without transfers. You can also reach Denmark, which has the busiest airports in Scandinavia, by landing at Bratislava Airport, Copenhagen Airport, Billund Airport or Aalborg Airport, depending on the airports closest to the region where you want to start your trip. You can reach the airports by using highly developed public transportation facilities such as buses and trains. Depending on your special circumstances and requests, you can benefit from taxi, hotel shuttles or car rental services.
Transportation to Denmark
You can reach Denmark by road, sea and air. Although your journey by choosing a bus or ship will be less costly, the fatigue you will experience may cost you the quality of your time in Denmark as the journey will take a long time. Airline is the most frequently preferred means of transportation by passengers due to its speed and ease of transportation.
Airlines with Flights to Denmark
• Turkish Airlines
• SunExpress
• Aegean Airlines
• Luxair
• Pegasus Airlines
• Lufthansa
• Corendon Airlines
• Scandinavian Airlines
What are the places to visit in Denmark?
In Denmark, the smallest Scandinavian country, you can observe this country, which appeals to your niche tastes and has many unique, well-established cultures and habits, where you will have the opportunity to enjoy it to the fullest, in a calm way, instead of a lively trip with big adventures and participation in many events. The first step in travel plans for Denmark is the capital Copenhagen. If you want to learn more about the history of the Vikings, the first settlers and also the first ancestors of today's Danes, who are interested and excited by people from many parts of the world, or if you want to take a closer look at the cultural ruins, the National Museum may be a good stop for you. Again, museum lovers can visit another famous place, the Lousiana Museum. We recommend the very impressive ambiance of the Royal Library, surrounded by wooden shelves reaching up to the ceiling, for visitors with more niche preferences who do not want to return without seeing at least one or two of the libraries in the countries they visit, as well as for those who have not had such a preference before. Although another venue suggestion may sound strange to you, let us say that you can visit Assistens Cemetery. Although there are graves of important names such as Christian Andersen and Soren Kierkegaard, your reason for visiting may be to experience this social area, which serves as a kind of park where Danes take walks, picnics and meetings. If you want to not return without visiting the most important places of the country and have your touristic photos taken, you can visit the Amelienborg Palace, which is still in use by the Royal family, or the Castle, as it is widely used.
What is Denmark's Currency?
The currency of Denmark is the Danish Krone, known by its international abbreviation DKK.
Is Denmark an expensive country?
Among the countries you can travel to in the world, Denmark is an expensive country, especially when it comes to eating and drinking, especially when compared to other European countries.
What are the famous dishes of Denmark?
Since the country consists of more than 400 islands between the Baltic Sea and the North Sea, it can naturally turn into a paradise for seafood lovers. The most common ingredients in the cuisine are fresh fish and its derivatives. Pickled herring and fried halibut can be found on almost every menu. However, if you are not fond of seafood, you can of course turn to other options. In the "Honeydew" episode, one of the most appetizing episodes of The Bear series, you can enjoy the pastries that Marcus buys from Copenhagen bakeries and eats thoroughly. The small sandwiches called "Smørrebrød", which are loved by the public, are among the most famous of them. Again, for dessert lovers, rice puddings with different filling ingredients such as almonds and cherries are very popular. Although the most commonly used analogy to describe it is "crepe", you should definitely not leave without trying "æbleskiver", which is a more special dessert.
Does Denmark Require a Visa?
Schengen Visa is valid for travel to Denmark, as in other European Union countries. Visa conditions and requirements are also shaped around this visa type. If you have a service (grey) passport, special (green) passport, diplomatic (black) passport, you can stay in Denmark for a period of 3 months without having to apply. However, ordinary (burgundy) passport holders must apply for a Schengen visa.
What is the Official Language of Denmark?
The official language of Denmark is Danish. However, English and German are also widely spoken in the country. Almost everyone, from local vendors to the elderly population, speaks fluent English. In this way, there is no language problem for tourists in the country.
What is Denmark's Management Style?
The official name of Denmark is the Kingdom of Denmark. As can be understood from here, the country's governance is a form of government based on the constitutional monarchy system.
What are the climate conditions of Denmark?
Since Denmark is a Scandinavian country, it is a country where winters are cold, but thanks to its location in the south of the continent, it has a mild climate compared to countries such as Norway and Sweden. During the winter months, the temperature generally does not fall below 0 degrees. For those who do not like the cold, summer months will be the best choice for travel. However, it should be noted that visiting during the winter months will have a different taste for those who love the layered combination looks of the Danes and the winter ambience that nourishes the spirit of the city.
How Many Days Do It Take to Visit Denmark?
To visit Denmark, you need to spare at least 3 days and spend this time to the fullest. However, if you have the time and financial means, a week is required for activities such as slowly exploring the cities by bicycle and visiting the islands by ferry.
Which Vehicles Are Used in Urban Transportation in Denmark?
In Denmark, there are public transportation vehicles such as buses, as well as railway lines that travel to almost all Scandinavian countries. Another vehicle that is widely used in the country is the bicycle. There are roads and an established system for bicycles in cities.
Denmark Country Center