Ireland Flight Ticket
Ireland
Ireland Country Guide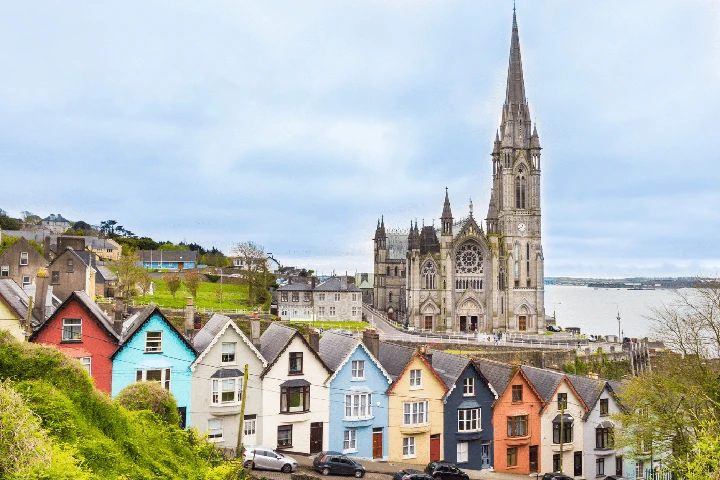 Buy a plane ticket to Ireland and embark on a captivating journey to this picturesque country. In Ireland, a land of small barrels filled with delicious pickles, you'll experience a peaceful atmosphere and indulge in every moment with visual delights. Whether you explore the depths of forests, wander through the narrow streets of cities, or savor the view from a random café, you will undoubtedly encounter a variety of castles, manors, chapels, and clichés that maintain their authenticity. The country's compact size turns your time here into a valuable advantage, as you'll want to see the gigantic cliffs, waterfalls, luminous green meadows that seem to be painted with a fluorescent pen, and the art galleries that line the streets. Stretching from east to west along the Dublin-Galway axis, Ireland is situated on a vast plain, which, as an island nation, enjoys a temperate climate. However, this also means it receives a fair amount of rain, earning its nickname as a wet country. Ireland's lush greenery and natural beauty owe much to this climate. Many visitors flock to Ireland each year to enjoy its breathtaking landscapes and witness the towering cliffs that reach over 120 meters in height. When you visit Ireland, you might feel as if you've stepped into the villages of Hobbits or the realms of Elven kingdoms that inspired J.R.R. Tolkien when writing "The Lord of the Rings."
How to Get to Ireland Airport?
You can buy a plane ticket to Ireland and fly directly to Dublin Airport. Dublin is conveniently located close to other cities, making it easy to reach your final destination from there. To get from the airport to the city center, you can take the double-decker buses called Airlink Express from the bus stops or use the private buses called Aircoach, which provide 24-hour transportation between the airport and the city center. For those who want to travel to Maynooth, the Airport Hopper service departing from Dublin Airport can be a good option. Apart from Dublin Airport, you can also fly to Donegal Airport, Kerry Airport, Shannon Airport, and Letterkenny Airport. You can explore public transportation options or consider other choices like taxis or car rentals.
How to Travel to Ireland?
You can reach Ireland by road, railway, sea, and air. However, other transportation options may lead to longer travel times and can be exhausting, so the most commonly preferred method of transportation is by air.
Airlines with Flights to Ireland
Turkish Airlines Egyptair United Airlines Emirates Qatar Airways American Airlines Etihad Airways
Places to Visit in Ireland
When exploring Ireland's cities, you may feel like you've traveled through a time tunnel to a small town in a different era, with scenic views and low-rise wooden or stone houses. The majority of historical buildings continue to be used, and the authenticity of cities is preserved to enhance their tourist appeal. While traveling in Ireland, soaking up the cultural atmosphere is truly captivating. Ireland is famous for its extensive green fields, manors covered in climbing ivy in the heart of the forests, and castles from different eras, creating a sense of tranquility and mystery. Among the must-visit places is the Cliffs of Moher, which attracts thousands of visitors every year. The gigantic cliffs, with heights of up to 120 meters, and the view of the Aran Islands are truly enchanting. Another notable attraction is the Rock of Cashel, which was used as the seat of the Kings of Munster from the 4th century. This structure surprises visitors with its cross-shaped architecture and the absence of corridors. If you have an interest in medieval buildings, another remarkable site is Blarney Castle, easily accessible from Cork. Historical buildings not only impress with their appearances but also with their stories. One such building is Menlo Castle, constructed by the Blake family. According to legend, the family's daughter dies in an unexplained fire at the castle, and her body is never found. Later, the Baron who acquired the castle is found dead in his carriage. These events have given Menlo Castle a mystical reputation among the locals. You can also engage in more local activities in Cork, such as fishing, taking a walk along the river, and enjoying traditional Irish cuisine with impressive views. Visiting Killarney National Park and Muckross House, you can gain insight into Irish farm life and the daily lives of ordinary people. Doolin, known as the center of traditional Irish music and a hotspot for touristy travel photographs, offers not only music and beautiful photos but also the opportunity to hear the region's distinctive English accent. You can participate in tours to Kilmainham Gaol, which will provide a unique experience beyond conventional museums. Additionally, you can visit the Glasnevin Cemetery Museum, which offers an access system that allows you to see all past records of deceased individuals and learn about their diverse life stories.
What Is Ireland's Currency?
The currency of Ireland is the Euro.
Is Ireland Expensive to Visit?
Compared to other European countries, the cost of living in Ireland is relatively high. Particularly, you'll need to allocate a larger budget for dining and accommodation compared to other countries. However, when compared to its neighbor, the United Kingdom, travel expenses are much lower.
What Are Ireland's Famous Dishes?
Ireland is known for its local beer and whiskey production centers. Therefore, aside from visiting the production facilities, there is a well-established culture of traditional pubs around these areas. Whiskey distilleries and the famous Guinness Storehouse attract gourmets and beer enthusiasts. Regarding the culinary culture, it's essential to know that the predominant ingredients in Irish cuisine are pork, beef, and lamb. The most famous dish prepared with these meats and served with brown bread is Irish stew. Another renowned dish is Clare Island salmon. Dublin Coddle, made since the 1700s, is another dish you'll want to try. For dessert, Chester Squares or the traditional sweet known as Gur Cake can be sampled at Mannings Bakery.
Do I Need a Visa for Ireland?
For tourist travel, extended visits, and educational purposes, all passport types require a visa to enter Ireland. Although Ireland does not honor Schengen visas, you can obtain a specific visa for the country. However, if you meet the necessary requirements, it's possible to enter Ireland with a UK visa.
What Are Ireland's Official Languages?
Ireland has two official languages: Irish and English.
What Is Ireland's System of Government?
Ireland has a unitary system of government and is governed by a parliamentary democracy.
What Are Ireland's Climate Conditions?
Ireland, being an island nation, experiences a temperate climate characterized by mild temperatures year-round. It receives a high amount of rainfall throughout the year. Winters can see temperatures ranging from 4°C to 7°C at their lowest, while summers tend to have temperatures between 14°C and 16°C, providing a comfortably cool travel experience without excessive heat.
How Many Days Do I Need to Explore Ireland?
The number of days you need to explore Ireland depends on the number of cities you want to visit. It's recommended to allocate a minimum of 3 days.
What Modes of Transportation Are Used for Intra-City Travel in Ireland?
Ireland has a well-developed railway network, making trains a convenient option for intercity travel. For travel within cities, buses and bicycles are widely used.
Ireland Country Center