Finland Flight Ticket
Finland
Finland Country Guide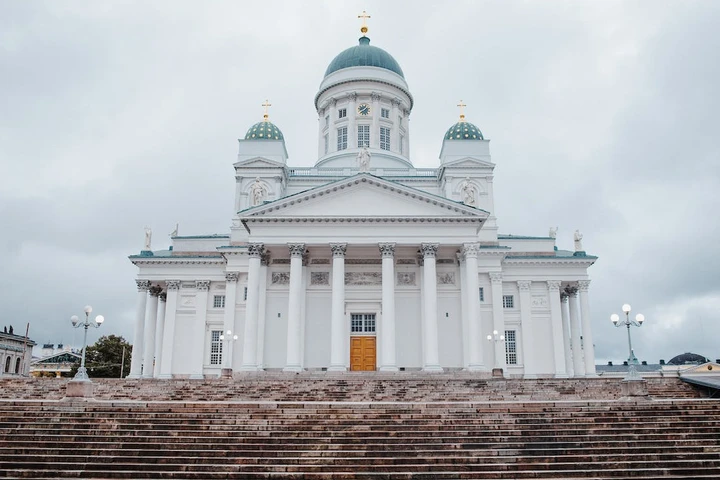 Information about Finland, Places to Visit, What to Eat?
Buy a flight ticket to Finland and land in the land of the Aurora Borealis northern lights, one of the most fascinating natural phenomena you can see in the world. If you do not live in Finland, your trip to this country will offer you the opportunity to experience experiences that you cannot have anywhere else. Finland ranks first among countries in the world in many areas such as education, economic competitiveness, civil liberties, quality of life and human development. The experience of living here will be interesting to all of us who are not Finnish. Finland, which will give you the opportunity to get involved in this safe, calm, quiet and modern social life for a while, may also offer you the opportunity to witness many different natural events due to its geographical location. In Finland, which has over 70 thousand islands, you will be able to breathe in the cleanest air you can breathe in the world, while admiring the landscapes of lush green areas and forests spread among nearly 180 thousand lakes. Finland, which is very close to the Arctic Circle, has many winter activities that can be done during the long winter months. In Finland, where the sauna culture is very deep-rooted and this tradition has been transformed into electric, modern and safe infrastructures over time, you can heal in hot water pools against snow views. If you are one of those who love ski holidays, you can add this holiday concept to your touristic holiday.
If you want to have a quiet holiday and get involved in the daily lives of Finnish people, you can eat a slice of cake with delicious coffee while watching the city in a nice cafe, like these people who consume at least 8-9 cups of coffee a day. If you are one of those who want touristic customs to find their place, it may be possible for you to plan a trip where you will visit magnificent structures such as the Art Nouveau style Helsinki Cathedral and engage with the history of the country.
The thing we know best about this country is the northern lights... It will be equally surprising for you to come across information that you are likely to have never heard of, such as fascinating natural events such as Midnight Sun and the fact that it is the country with the most metal bands in the world.
You can understand why Finland is the happiest country in the world when you encounter the northern lights in this fairytale winter country or when you get involved in the tranquility of the cities.
How to Get to Finland Airport?
By purchasing a Finland flight ticket, you can fly directly to Vantaa Airport in the capital Helsinki. It is very easy to get around thanks to the public transportation lines between the airport and the city center. There are buses that depart every 15 minutes, which you can take as soon as you leave Vantaa Airport. You can reach the city center in 40 minutes by using these buses. However, in cases where you need faster transportation, you can also consider taxi or car rental options.
Transportation to Finland
You can reach Finland by road, sea and air. Air transportation is mostly preferred by passengers as other options offer a longer and tiring journey.
Airlines with Flights to Finland
• Turkish Airlines
• SunExpress Airlines
• Finnair
• Belavia
• Aeroflot Russian Airlines
• Ukraine International Airlines
• Corendon Airlines
Why Does the Sun Never Set in Finland?
According to this natural phenomenon called Midnight Sun in Finland, the sun does not set for 24 hours in the summer months. The reason why this natural phenomenon occurs is primarily because Finland is a country located in the Arctic Circle. The Midnight Sun phenomenon can continue for more than two months, especially in the Lapland region, which is preferred to watch the Northern Lights.
Which countries are Finland's neighbors?
Finland to the east, Russia; It is a Scandinavian country bordering Norway to the north, Sweden to the west, and Estonia to the south.
When is the Best Season to Travel to Finland?
Since it is a country located in the Arctic Circle, it is a very cold country. Especially as you move towards Russia, the temperature in the country gradually decreases. For this reason, if passengers cannot tolerate cold, it would be appropriate to choose the summer months for travel. The number of activities held outdoors in Finland also increases during the summer months. It can be a lot of fun to participate in interesting activities such as wife carrying competitions called Sonkajarvi, mosquito catching competitions called Mosquito Swatting and ice swimming events at Pihlajasaari Beach, or even just be a spectator.
However, the cultural life and tourism options of Finland, a winter country, are also shaped around this situation. For this reason, we can recommend that those who are good with the cold make a winter trip. In this way, you can watch the Aurora Borealis lights from inside the glass-ceilinged igloos. Finland, thought to be the homeland of Santa Claus You can have a special Christmas that you will never forget in the Lapland region of diya. However, for those whose purpose of traveling to the country is to see the Northern Lights above all else, the most ideal times we recommend are September and March. Because during visits during these months, it is possible to watch the northern lights with the naked eye.
What is the Official Language of Finland?
Interestingly, compared to other countries, Finland has two official languages. These are Finnish and Swedish. However, since the level of education in the country is quite high, almost everyone can speak English. This prevents communication problems for tourists.
What is Finland's Currency?
The currency of Finland, a member of the European Union, is the Euro.
Does Finland Require a Visa?
Like other European Union member countries, if you are a citizen with a burgundy passport, you must obtain a Schengen Visa for your touristic travels to Finland. If you are a citizen with a green paraport or gray passport, you do not need to apply for a visa for your touristic travels, provided that they do not exceed 90 days.
What to Eat in Finland?
In Finland, like other Baltic countries, the main ingredient is seafood. It is possible to see German, Russian and Swedish influences in traditional Finnish cuisine. However, a unique interpretation has definitely been added to the dishes. Delicious country dishes are cooked with a contemporary interpretation of haute cuisine. Fish and meat are commonly served with vegetable and mushroom accompaniments.
The most famous dish of the country is Karelian, whose original name is Karjalanpiirakat. If you have the opportunity during your visit to the country, we recommend you try it. Among the famous dishes you can eat in Finland, we first recommend kaalikaaryleet, a type of stuffed cabbage. Kylmasavustettu lohi, which is cold smoked salmon, Gravlax, which is a Scandinavian dish made by coating uncooked salmon in a mixture of salt, dill and sugar, and pickled herring... In addition to tasting the country's famous rye breads such as Ruisleipa and Sihtileipa, you can also give it as a gift for your loved ones on your return. You can buy it.
Where are the Famous Places in Finland?
The most famous place in Finland is undoubtedly the Lapland Region. Those who want to watch the Northern Lights or visit the symbolic hut dedicated to Santa Claus will definitely go here. A big festival is also held here around the time of the Midnight Sun. Another celestial event can welcome those who visit this region during the summer months. In the capital Helski, the largest city of the country, you can examine the architectural structures and watch the modern city life closely.
What is Finland's Management Style?
Finland's form of government is the Parliamentary Republic.
How Many Days Do It Take to Visit Finland?
The time you need to spend in Finland may vary depending on the season you visit and the activities during this period. For your visit in winter, it might be a good idea to stay for 3 days to catch the Northern Lights. In the summer months, 2 days may be sufficient so as not to disrupt your sleep pattern.
Finland Country Center