Croatia Flight Ticket
Croatia
Croatia Country Guide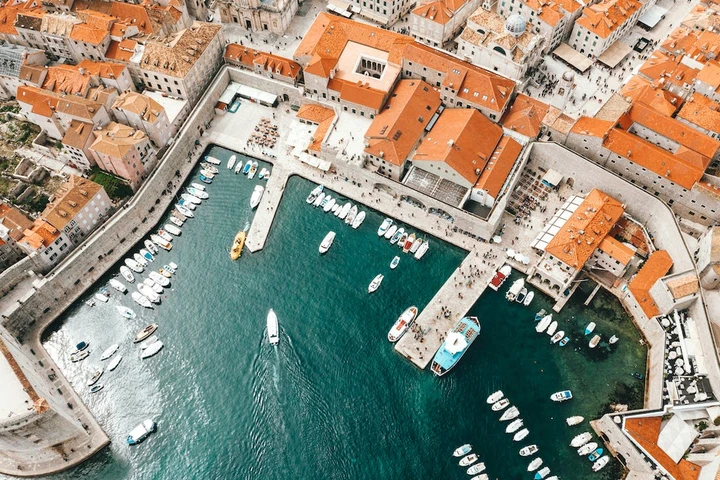 Information about Croatia, Places to Visit, What to Eat?
Buy a Croatia flight ticket and fly to Croatia, where blue meets green, which Lord Byron called "The Pearl of the Adriatic". This place has an ambiance where you can take all the beautiful pieces from its neighbors Serbia, Bosnia and Herzegovina, Montenegro and Italy and feel like you are in all these countries from time to time. Croatia is a country that fascinates its visitors with its kilometers-long beaches, glass-clear sea waters, giant cliffs that wrap around the waters, and its architectural and cultural heritage blended with the most important cultures of the past, from Rome to the Middle Ages and from there to the Ottoman Empire. Located at the intersection of the Balkans and the Mediterranean, this country on the shores of the Adriatic is attracting more attention as travel networks develop. It seems that interest in this city, which has become even more iconic as it is frequently featured in the filming of important productions followed by the whole world, such as Game of Thrones, will continue to increase.
Croatia has been an important settlement for civilizations since ancient times. What makes the city special is that it still carries traces from the Roman period, the Middle Ages and the Ottoman cultural heritage. The preservation of the original textures of the country's buildings and natural areas draws its visitors into a strong intercultural aura. The sun, which gives a warm color to the country especially in spring and summer, makes the magnificent structures and blue waters look even more fascinating. During these periods, the country is full of beautiful photographs all over the country.
Capital Zagreb, the largest city in the country, has the historically important Zagreb Cathedral, St. It contains most of the structures such as St. Mark's Church. Split, another famous city of the country, is an ancient Roman city that combines modernity and tradition, dominated by a strong Dalmatian culture. Split is also the transit zone from where you can go to other port cities and Croatian islands. Other famous stopping points you can visit here include Diocletian's Palace, Split Aquarium and Temple of Jupiter. Dubrovnik, a Unesco World Heritage city whose number of visitors is increasing and which shines brightly, offers visitors the service of an open-air museum. While walking the streets of Dubrovnik, you can also pass through the stone paths that many people have walked on since the Roman period. These roads and stone structures, bathed in the summer sun, may cause you to experience moments that will make you feel like you are on the set of Game of Thrones.
It also attracts great attention in the country with events such as the Fasnik and Dance Festival or the Zagreb International Folk Festival. These festivals also attract a lot of attention for travelers who plan their travels to attend big events during the dates they will visit the country.
When going to Croatia, you can choose different travel options or experience all the options if you wish.
How to Get to Croatia Airport?
You can fly directly to Zagreb Airport and Dubrownik Airport by purchasing a Croatia flight ticket. If you want to go to Split and Pula outside the capital, you need to transfer from Zagreb Airport. You can go to the airport by using the public transportation facilities in the city. You can also consider taxi and car rental options.
Transportation to Croatia
It is possible to reach Croatia by road, sea, railway or air. It is possible to reach the country by bus or train from Greece and Macedonia lines, or by boat from the ports of Kuşadası, Izmir and Istanbul. However, since these means of transportation take a long time, the fastest and safest method preferred by passengers is air.
Airlines with Flights to Croatia
• Turkish Airlines
• Emirates
• Air Serbia
• Qatar Airways
• Ryanair
• Fly Dubai
• Air Serbia
• EasyJet
In Which Season Should You Go to Croatia?
Croatia has a mostly temperate climate with weather conditions similar to the Mediterranean Climate. In this way, it can be visited at any season of the year. Nature greatly affects the ambiance you will encounter in Croatia. For this reason, we recommend that you see the locations you will visit with greenery, flowers and sparkling waters under the bright sun. For this reason, May, June or September, when the plants bloom and the weather warms up, are the most ideal times. For this reason, these are the periods most frequently preferred by visitors. In this way, you can not only enjoy the views but also swim a lot on the clean and deep blue beaches of some cities that stretch for kilometers and have a real summer holiday.
What is the Currency of Croatia?
The currency of Croatia is the Croatian Kuna. However, in some tourist areas in the country, Euro is also valid.
Is Croatia an expensive country?
Croatia is a very cheap country compared to other European countries. In the country; To enjoy the experience it offers with its food, beverage, architectural structure and natural beauties. There is no need to incur large expenses.
What are the famous dishes of Croatia?
The fact that Croatia has hosted many great and important cultures throughout history has determined the texture of the city and also enriched its cuisine. It has an incredible gastronomic richness of its own, such as Slavic, Turkish, Greek, Hungarian and Italian cuisines. Therefore, imagine the explosion of flavors that can occur when these culinary cultures come together. It is impossible not to produce delicious food in a kitchen where olive oil, garlic, citrus fruits and spices are the basic products. In addition, seafood encountered in Mediterranean culture has also gained a significant place in Croatian cuisine. When visiting such a country, we recommend that you work a little on your eating potential and expand your limits for this trip. Let's talk about the famous dishes that you should not leave without eating. Black risotto and fish stew will please your seafood lovers. For those who prefer red meat or white meat, spit-roasted lamb and Zagreb schnitzel are worth trying. And another iconic dish that will sound very familiar is burek. Peka and Dalmatian misanca, where lamb or cuttlefish is cooked with vegetables and spices, are other local flavors specific to Croatian cuisine. Of course, for those who say that rest stops cannot be without dessert to spoon, we recommend that they do not miss Dubrovacka pie, Paprenjaci cookies and Kremsinite cream cakes.
Does Croatia Require a Visa?
Croatia has entered the Schengen area as of 2023. For this reason, citizens with ordinary passports who will go for touristic travel must apply for a Schengen visa.
What is the Official Language of Croatia?
The official language of Croatia is Croatian. However, the young population can widely speak English. In this way, there is no problem in communicating for traveling tourists.
What is Croatia's Management Style?
Croatia is governed by parliamentary democracy.
What are the climate conditions of Croatia?
A temperate continental climate prevails in Croatia, which resembles the Mediterranean climate. The weather conditions are in a climate where snowfall is not dominant, and winters are mostly spent with rain.
How Many Days Do It Take to Visit Croatia?
You can spare at least 3 days as Croatia has important cities such as Dubrovnik, Split, Pula, as well as its capital, Zagreb, and places and events that you will not want to miss in these cities.
Which Vehicles Are Used in Urban Transportation in Croatia?
Thanks to public transportation networks in Croatia, urban transportation is very easy. You can use public transportation such as buses and trams in the country, or you can also choose a bicycle for your short distance journeys.
Croatia Country Center