Spain Flight Ticket
Spain
Spain Country Guide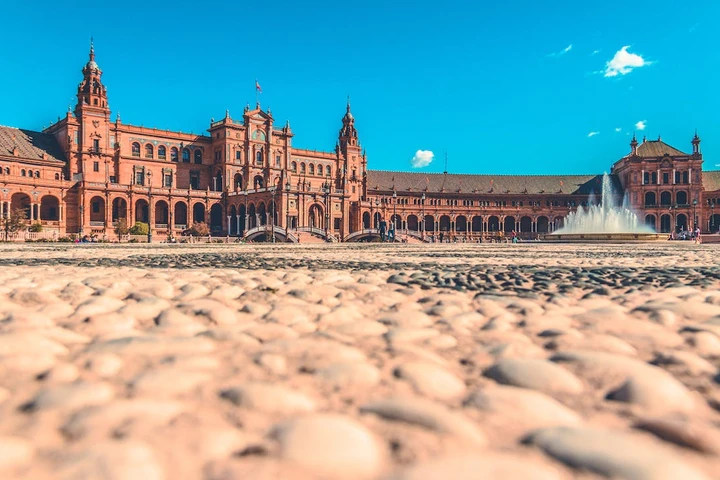 Information about Spain, Places to Visit, What to Eat?
Buy a flight ticket to Spain and head towards the most exotic country in Europe. Located in the southwest of Europe, on the Iberian Peninsula leading to the Mediterranean along the southern and eastern coasts, Spain is one of the oldest inhabited regions in Europe.
Thanks to the Atlantic and Mediterranean climate prevailing on the coasts, it has a soft and bright weather with plenty of sun. Thus, it is a very busy destination for summer holidays where you can swim a lot. Spain, the second largest country in Europe after France, has kept very strong cultures alive in this vast land throughout its history. Since its first settlers, dating back to the Phoenicians, it has been used as a capital or a critical region in different periods by the Celts, Greeks, Carthaginians and Andalusians. In this way, all these cults that passed through Spain interacted with each other and created a harmonious country. This cultural interaction and the fact that the country has seen many people of different religions and races throughout its history have enabled the Spanish people to be flexible and tolerant people. Thanks to its many places to explore and its traveler-loving people, it is the second most tourist-receiving country in Europe after France.
In Spain, you can visit many magnificent buildings from a wide cultural spectrum extending from Rome to Andalusia, enjoy the sea on its long beaches, and experience unforgettable dishes in a cuisine that brings together layers of culture.
How to Get to Spain Airport?
By purchasing a flight ticket to Spain, you can easily reach the cities you want to visit by landing at approximately 40 airports in the country. If you land at Barcelona International Airport and Madrid Barajas International Airport, which are the busiest airports in the country, you can easily reach the city centers using metro lines. If you land in different cities using Seville Airport or Valencia Airport, you can use public transportation such as bus, train, shuttle or private methods such as taxi and car rental.
Transportation to Spain
You can reach Spain by road, sea and air. However, airlines are preferred in terms of speed and safety.
Airlines with Flights to Spain
• Turkish Airlines
• Lufthansa
• Condor
• Algerian Airline
• Luxair
•Air France
• Pegasus Airlines
• Tunisian Airlines
• British Airways
• Moldova Airlines
• Corendon Dutch Airlines
When to Go to Spain?
Spain has several different climates due to its large area. For this reason, it will be important to determine the appropriate dates according to the locations you plan to visit in the country. If you are planning to visit regions such as Madrid, Andalusia, Mancha or Castile and Leon, we can say that the oceanic-continental climate prevails in these inland cities and it is better to choose the summer months. In coastal regions such as Catalonia and the Balearic Islands, the Mediterranean climate prevails and you can visit it at any time of the year without encountering difficult weather conditions. In line with these conditions, the busiest months for visits to Spain are May and June.
How Many Days to Stay in Spain?
Since Spain is a very large country and has land suitable for settlement in every region, it has many visiting points. The fact that all of these destinations contain the heritage of once very important states and cultures increases the number of places to visit and the time spent. Therefore, it would be a good idea to spare at least a week for your trip to Spain.
How Many Days Do It Take to Visit Barcelona?
In Barcelona, one of the largest cities of Spain, you will be amazed by the dazzlingly magnificent buildings dominated by Gaudi's designs. In addition to wanting to visit these structures for a long time, you may also want to swim at the beaches close to the city. In this city with many famous festivals, if you want to attend the festivals you will come across on the dates you visit, you should spare at least two days.
What are the Important Features of Spain?
Spain is the second largest and most visited country in Europe after France. For this reason, it is a country quite accustomed to tourists. This flexibility of the country towards different cultures and visitors lies in the fact that it has been governed by many states throughout history and that population mobility is, in a sense, the fate of the country. It has created a social structure and culture that blends many different cultures, from the Phoenicians to the Romans and from there to the Andalusians.
Which Cities to Visit in Spain?
Capital Madrid, Spain's largest city, is one of the cities you should not leave without visiting. You will encounter eye-catching buildings in every corner you turn in this city, which carries the heritage of the Kingdom of Castile. Visit Cadiz, the oldest city in Europe, and explore the historical docks in the city. It is possible to experience time transitions between these and famous festivals. Those who want to see the Alhambra Palace, one of the most iconic structures of Spain, should add Granada to their route. For those who like to visit for gastronomic purposes, Seville, the birthplace of Paella and the address of Spanish dishes developed with both Roman and Arab influences, will be the city you are looking for.
What is Spain's Management Style?
Spain is governed by a constitutional monarchy shaped by parliamentary democracy.
Does Spain Require a Visa?
You must apply for a visa for your touristic visits to Spain. There is an important situation that citizens who will work with the Istanbul Consulate for Spain visa procedures should know. The Consulate does not accept visa applications. Therefore, you must apply through accredited companies working for Spain. Official passport holders cannot apply for a Spanish visa for travels that will not exceed 90 days.
What is the Currency of Spain?
The currency of Spain is the Euro.
What are the Famous Foods of Spain?
Traces of the cultural remains of all the nations that Spain has hosted throughout history are still kept alive in Spanish cuisine and continue to be passed on to generations. Spices brought to Spain, a European city, from distant lands by the Arabs, olive oil and garlic, where you can see the influence of the Greeks, have transformed the Spanish cuisine into a cuisine that unites many different geographies. The most famous of these dishes is Tapas snacks, which you can eat by going to small restaurants called TAsca, which are described by those who eat them as a mouth-watering taste. Another important dish of Spain is Pintxos, which belongs to the Basque region. And Tortilla, which almost all of us have heard of. This dish consisting of potatoes, olive oil and eggs, which the Spanish read as tortiya, is one of the most consumed delicacies in Spain. Tomato soup Gazpacho is also one of the famous dishes. However, the Spanish make this soup without cooking it. The almond version of this soup, which consists of garlic, tomato, salt, red pepper and onion, is also frequently preferred. As for desserts, Arroz Con Leche, whose ingredients remind us of rice pudding and means "rice with milk", is one of the traditional Spanish desserts. The dessert that resembles another Turkish dessert is called Turron, which consists of a combination of almonds and sugar. It is also a very popular dessert as a gift.
What is the Official Language of Spain?
The official language of Spain is Spanish. However, since almost all of the people speak English, there is no language difficulty for tourists. Local people living in different parts of the country continue to speak local languages such as Galician, Catalan and Basque.
Spain Country Center