Iraq Flight Ticket
Iraq
Iraq Country Guide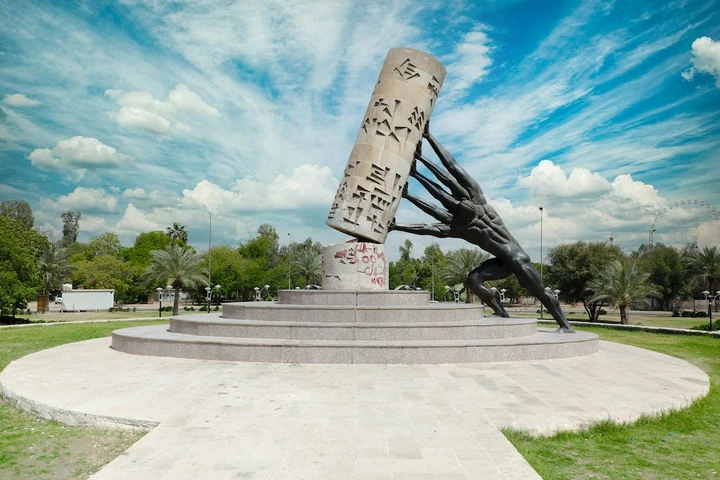 Iraq
You can fly to Iraq, a Middle Eastern country, with an Iraq flight ticket. It is possible to see traces of ancient civilizations in the country established in Lower Mesopotamia. The capital of the country, which is bordered by Saudi Arabia in the south, Syria in the west, Iran in the east, Kuwait in the southeast, Jordan in the southwest and Turkey in the north, is Baghdad. The country, which is governed by a federal parliamentary Republic, has the third largest oil reserves in the world, as well as being the cradle of ancient civilizations.
Information About Iraq, Places To Visit, What To Eat?
With the purchase of a flight ticket to Iraq, you will fly to a country that has been under the dominance of the United Kingdom and the United States for many years. The country, which was the center and border post of various empires, remained under the rule of the Ottoman Empire for many years. Iraq's relations with its neighbors, which have little connection with the sea, are developing as time goes by.
In the country where cold and dry winters are observed, the summers are cloudless and hot due to the fact that it is a desert country. It has a desert climate in the south and a continental climate in the north. Due to the mountainous structure in the north, forest and steppe are seen as vegetation. Oak, poplar and willow trees grow in the mountainous regions, while palm and date palm trees, also known as desert trees, grow in the south.
The country's economy consists of oil, shopping, agriculture and tourism. Culture in Iraq has been shaped by Mesopotamian, Islamic, traditional Arab and Kurdish cultures. The influence of the religion of Islam manifests itself in the music, cuisine, architecture, clothing and lifestyle of Arab and Kurdish cultures. Kebab, meat dishes and pastry desserts occupy a large place in Iraqi Cuisine.
Among the places to visit in Iraq are the Iraqi National Museum in Baghdad, the Abbasid Palace, the Hatra Ruins and the Martyrs' Monument. In Erbil, Erbil Castle, Kayseri Bazaar, Jalil Khayat Mosque and Textile Museum are among the main places to visit. It is also frequently visited by tourists in Mosul, Najaf and Basra.
How to Get to the Airport?
By purchasing an Iraq flight ticket, you can fly to Baghdad International Airport, Basra Airport, Erbil Airport, Mosul Airport, Najaf Airport or Sulaymaniyah Airport. It is possible to use bus, hotel shuttles, taxi or car rental services to reach the airports.
Transportation to Iraq
You can reach Iraq by road or air. Airline is mostly preferred to reach the country, as the airline is both shorter and safer. It is possible to reach the country directly by purchasing a Baghdad Airport flight ticket. Transfers are made to other cities via Baghdad Airport.
Airlines with Flights to Iraq
• Turkish Airlines
• Iraqi Airways
• Royal Jordanian Airlines
• Middle East Airlines
• Pegasus
• Lufthansa
• Austrian Airlines
• Air India
• Iran Air
• Qatar Airways
• Eurowings
• Egypt Air
• Emirates
• Flydubai Airlines
• Kuwait Airways
• AnadoluJet
• SunExpress
Frequently asked Questions
Is Iraq's Nightlife Colorful?
Nightlife in Iraq is not very active. However, it is possible to have dinner in restaurants with live music. The vitality in Erbil is higher than in other cities.
Is Iraq's Cultural-Artistic Life Active?
Two important festivals of Iraq; The International Babylon Festival between September and October and the Iraq Short Film Festival in August are among the events that enliven the cultural and artistic life of the country.
Which Season Is Ideal To Visit Iraq?
The summer temperature in Iraq, which has a continental climate, reaches 60-70 degrees. In winter, the temperature drops below zero degrees. For these reasons, the best time to visit Iraq to the fullest is spring.
What Language Is Used in Iraq?
The official language of Iraq is Arabic. Armenian, Syriac and Turkmen are also widely spoken.
How Many Days is Required to Stay in Iraq?
It is enough to stay for a week to visit Iraq.
What is Iraq's Form of Government?
Iraq is governed by a federal parliamentary Republic.
What Are Iraq's Livelihoods?
Oil exports, agriculture, shopping and tourism are the main livelihoods of Iraq. Iraq is the third largest country in the world in terms of oil reserves.
What can be brought as souvenirs from the Iraq trip?
Iraq is also very rich in terms of local flavors and authentic gifts. While silver and copper items are very popular among tourists, hand-woven carpets and rugs and various spices can be purchased as souvenirs.
Which Vehicles Are Used in Urban Transportation in Iraq?
In Iraq, where public transportation is not common, taxis are used for urban transportation.
Is a Visa Required for Iraq?
Iraq requires a visa from its visitors. These visas can be obtained from the consulate or from the airport for short visits.
What Currency Does Iraq Use?
The official currency in Iraq is the Iraqi Dinar.
What to Eat in Iraq
Erbil Kebab, Biryani, Dome Soup, Cucumber Stuffed and Tray Baytinijan is one of Iraq's most famous dishes. It is possible to taste the best examples in Baghdad and Erbil.
Does Iraq Have a Coast to the Persian Gulf?
With a coastline of 100 kilometers in Basra, Iraq also has two major ports.
Is Iraq an Expensive Country?
Average prices in Iraq are higher than in Turkey.
Is Iraq Safe?
Although Iraq is badly remembered because of the wars in the recent past, it is a country that is gradually increasing its tourism potential.
Is there a Dress Code in Iraq?
Although it is not welcomed for female tourists to dress very openly in Iraq, there is no specific dress code.
Is a Visa Obtained from Turkish Citizens Who Want to Visit Iraq?
Visas are also obtained from Turkish citizens visiting Iraq.
Are There Public Holidays and Holidays in Iraq?
Eid-al-Fitr and Eid-al-Adha, which are religious holidays, are celebrated every year. 14 July Republic Day and 3 October Independence Day are also official holidays of the country.
Iraq Flight Information
It is possible to fly to Baghdad International Airport, Basra Airport, Erbil Airport, Mosul Airport, Najaf Airport or Sulaymaniyah Airport with an Iraq flight ticket.
Destination Airport: Baghdad International Airport
Destination Airport IATA Code: BGW
Destination City Name: Baghdad, Iraq
Destination Airport: Basra Airport
Destination Airport IATA Code: BSR
Destination City Name: Basra, Iraq
Destination Airport: Erbil Airport
Destination Airport IATA Code: EBL
Destination Name: Erbil, Iraq
Destination Airport: Najaf Airport
Destination Airport IATA Code: NJF
Destination Name: Najaf, Iraq
Destination Airport: Sulaymaniyah Airport
Destination Airport IATA Code: ISU
Destination Name: Sulaymaniyah, Iraq
Destination Airport: Mosul Airport
Destination Airport IATA Code: OSM
Destination City Name: Mosul, Iraq
Popular Airlines
• Turkish Airlines
• Iraqi Airways
• Royal Jordanian Airlines
• Middle East Airlines
• Pegasus
• Lufthansa
• Austrian Airlines
• Air India
• Iran Air
• Qatar Airways
• Eurowings
• Egypt Air
• Emirates
• Flydubai Airlines
• Kuwait Airways
• AnadoluJet
• SunExpress
Iraq Country Center