Switzerland Flight Ticket
Switzerland
Switzerland Country Guide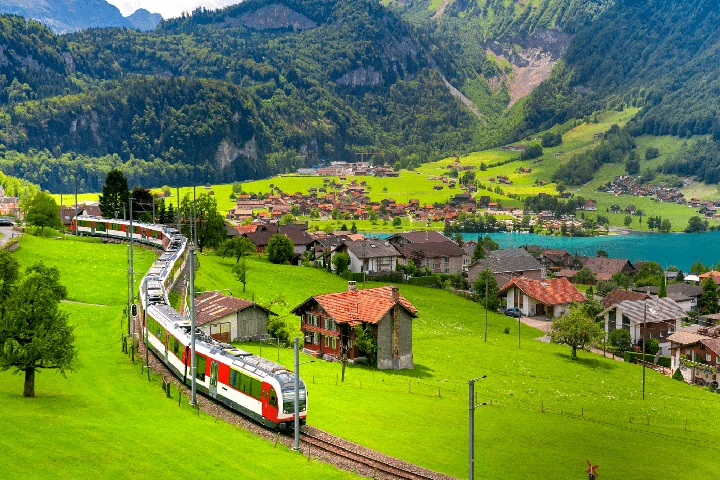 Get a plane ticket to Switzerland and embark on a sweet and peaceful journey to Heidi's homeland. Switzerland is one of the most developed countries that continues its unique culture and traditions in Europe without compromising its authenticity. It is a country where not only the towering solitude of the Alps but also iconic towers rising from within cities catch the eye. In the foothills of the Alps, surrounded by these lush and massive mountains, you can enjoy a tranquil holiday by immersing yourself in the rhythm of the Swiss people and rejuvenating both physically and mentally. Switzerland is also one of the countries where academic travels are as intense as nature and history trips. It is a small but highly developed country where life is still actively maintained in villages, traditions and cultures are preserved, and significant innovations are continuously made. It is one of the important countries that demonstrates how to be a modern country with all its uniqueness. When we think of Switzerland, one side highlights mountains, cows, and chocolates; on the other side, it can be aluminum foil, sleigh racing, and the abbreviation 'www' that is fundamental to all of our lives. A country with such a wide range has many destinations and activities to offer for tourist travels. In the medieval stone houses of Lavertezzo located at the foot of the Alps, you can have a comfortable forest vacation. You can also join mountain tours with frequently organized tours. If you want to have a winter vacation, you can evaluate the ski resorts in Gstaad. Or if you prefer to just watch the enchanting mountains, you can heal in outdoor spas in front of mountain views. We also recommend famous train journeys that can offer a more special holiday experience for those who wish. You can enjoy the enchanting views protected by UNESCO by wandering around the edges of the mountains. In Switzerland, one of the countries with the lowest crime rates globally, you can experience a comfortable and beautiful journey with the politeness of the Swiss people, who live quietly and are very familiar with visitors. In the world's 6th happiest country where people love to live according to high living standards and rules, you can temporarily savor the full taste of happiness.
How to Get to Swiss Airports?
You can get a plane ticket to Switzerland and land at the busiest airports such as Geneva Airport, Basel Mulhouse Airport, and Zurich Kloten Airport. With discounted cards or subscriptions that you will purchase, you can easily and quickly reach city centers economically. It is possible to reach almost everywhere by train and bus. For train journeys, you can pay with Swiss Travel Pass and Swiss Half Fare Card. You can also buy Supersaver tickets for your day trips. Trains that will take you from Zurich Kloten Airport to the city center in 12 minutes depart every 10 minutes. If you land at Geneva Airport, you can get a Free Ticket that you can use for free for the first 80 minutes and reach the city center in about 7 minutes by train or bus.
Transportation in Switzerland The most preferred transportation method in Switzerland is air travel in terms of safety and travel time. However, if you want to travel through neighboring countries, you can also consider the frequently preferred train journeys.
Airlines with Flights to Switzerland
Turkish Airlines
SunExpress
United Airlines
Pegasus
Tunisair
Wizz Air Malta
Wizz Air
American Airlines
Places to Visit in Switzerland You can create a travel itinerary in Switzerland that combines several different concepts. You can bring together different options such as experiencing an innovative country, visiting historical structures, hiking in the mountains, and embarking on a gastronomic journey. First, the place you might want to visit is Zurich, the largest city in Switzerland. Located at the foothills of the Alps, Zurich is one of the many cities with iconic areas where you can feel the culture and history known as Old Town or Altstadt. Here, you can visit points of interest such as Grossmünster Church, St. Peter's Church, China Garden, and Lindenhof Hill. In Geneva, one of the oldest cities with a history of 4000 years, you can see architectural structures that continue to live unchanged today and take a souvenir photo in front of the Reform Monument just before going to the famous Reform Museum. If you add the city of Basel to your travel route, you can complete your day after a peaceful boat trip on the Rhine River with a visit to Marktplatz Square.
Currency of Switzerland The official currency of Switzerland is the Swiss Franc, abbreviated as CHF. Although it is not a member of the European Union, the use of Euro is common in tourist areas.
Famous Dishes of Switzerland Swiss culinary culture revolves around potatoes, meat, and dairy products. The most famous food is Swiss Chocolate. Fondue, eaten by dipping bread, potatoes, and special wine accompaniments in melted Swiss cheese, is another famous dish. Raclette, served by mixing special spices and potatoes into melted cow's cheese, is another regional dish that those who taste it love. Rösti and Alpermagronen are other flavors you shouldn't miss if you have the opportunity.
Does Switzerland Require a Visa?
Switzerland is a country affiliated with Schengen. Therefore, a Schengen visa application is required for tourist travels.
Climate Conditions in Switzerland Switzerland experiences a temperate climate, Mediterranean climate, and Alpine climate simultaneously. As a result, high temperatures or extreme colds are not encountered much in urban areas where settlement is dense. However, mountainous areas are especially very cold, especially in winter.
Is the Number of English Speakers High in Switzerland?
Switzerland has four official main languages. These are German, French, Italian, and Romansh. However, the high level of education in the country also affects the number of English speakers. You will not have difficulty communicating in English during your tourist travels.
When Should You Go to See the Northern Lights in Switzerland?
Switzerland offers different travel alternatives for every season. Therefore, you should determine which season to travel according to the content of your trip. Although the winter months are cold, you can choose winter months for skiing holidays and to attend Christmas Markets, which continue from November to the new year. If you prefer the softer weather of spring, you will catch the greenest and most colorful landscapes in the country. Edelweiss flowers and decorated cows will be very common in the autumn or spring months. If you are interested in winemaking, you may come across traditional local events where traditional wines are produced during the grape harvest season, especially in small towns. July may be a good choice for those who want to attend the Montreux Jazz Festival, which takes place in a folkloric atmosphere along the shores of Lake Geneva, or cinephiles who want to attend the world-famous Locarno International Film Festival.
What to Buy as Souvenirs from Switzerland?
The best milk chocolates in the world, made for the first time in Switzerland with the milk of large-headed animals raised in the famous Alps of Switzerland, are still produced in Switzerland today. Similarly, dairy products are also very delicious. In addition to that, traditional wines produced especially during the grape harvest season are among the most important flavors of Switzerland. Choosing these tasty alternatives as gifts can make your loved ones very happy.
Is Transportation Convenient?
There is a transportation system in Switzerland that allows you to easily reach almost anywhere. Bus and train lines reach every corner of the country.
Switzerland Country Center